Request Free Educational Materials!
My greatest hope is that you and your readers will enjoy reading my stories as much as I have enjoyed writing them. To make that easier, I've compiled these educational, helpful, fun (and maybe even inspirational) materials for you to use in your school classroom or library.
Each free packet includes:
Posters and maps from my novels
Bookmarks
The T. A. Barron Video Collection
Six Book Discussion Guides
Articles by T. A. Barron which were featured in ALA Book Links, School Library Journal, The Horn Book, and other publications
Inspirational Quotations from The Hero's Trail
Barron Prize informational brochure
Young Heroes Activity & Discussion Guide
Heroes Bibliography
Informational flyer about the Dream Big Video Collection
You can download many of these materials today using the links below. Then fill out our contact form and I would be delighted to send you a free packet that includes these items and more to inspire your students – including posters and bookmarks from my books.
But be warned: You must handle them with care. Why? All these materials are supercharged with Contagious Imagination. On contact, you (and readers in your midst) will be instantly transported to bizarre, wondrous, and exciting imaginary worlds…which you may never want to leave.

Download Materials
Discussion Guides
Articles & Interviews
Informational flyer about Dream Big [Download]
Young Heroes Activity & Discussion Guide [Download]
Heroes Bibliography [Download]
Barron Prize Brochure [Download]
Both the Dream Big documentary and T. A. Barron video collection (which includes several other videos on heroes) are available for download and to stream in your classroom.
Watch or Download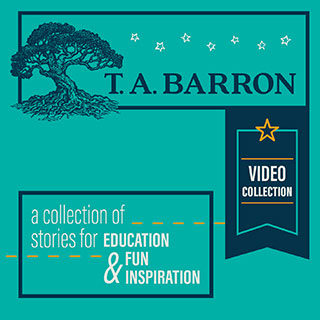 Watch on YouTube