T. A. BARRON'S BOOKS IN POLAND
T. A. Barron's books are currently out of print in Poland. The following books were previously published by CYPRUS and Gruner + Jahr Polska.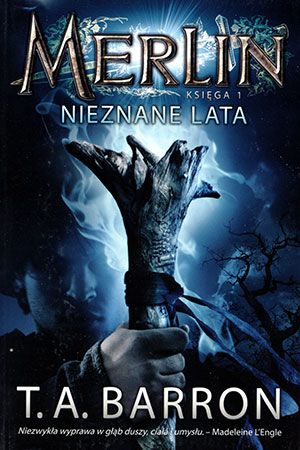 MERLIN KSIĘGA 1: NIEZNANE LATA
ISBN: 978-83-7778-168-5
PEWNEGO DNIA ZOSTANIE NAJPOTĘŻNIEJSZYM CZARODZIEJEM WSZECH CZASÓW…
Chłopiec wyrzucony na skaly przez wzburzone morze nie wie, kim jest, ani nie pamięta, jak się nazywa. Tak jak zrządził los, mieszka na wybreżu dawnej Walii. Pewnego dnia odkrywa, że posiada niezwykłe moce, ale kiedy używa ich wiedziony nienawiścią, oślepiają go płomienie. Uczy się wtedy postrzegać otoczenie, rozwijając dar magicznego wzroku. W końcu jako dwunastolatek postanawia poznać swoje pochodzenie i prawdziwe imię. Własnoręcznie wykonaną tratwą wyprawia się przez ocean. Podróż prowadzi go do mitycznej zaczarowanej krainy, w której żyją niezwykłe stworzenia. Tam rozpoczyna niebezpieczną misję, podczas której będzie musiał ratować wyspę od niszczycielskiej plagi wywołanej przymierzem między królem a złą mocą.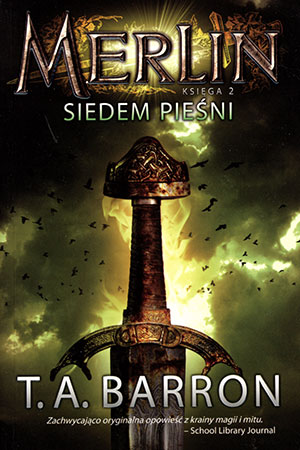 MERLIN KSIĘGA 2: SIEDEM PIEŚNI
ISBN: 978-83-7778-155-5
Merlin przywrócił nadzieję mieszkańcom Fincayry, magicznej wyspy między Ziemią a Niebem, nękanej długo przez Plagę, jaką zesłał na nią potężny, zły czarnoksiężnik. Ziemia Fincayry powoli ożywa dzięki. Harfie Kwitnienia. Krainie jednak nadal grozi wielkie niebezpieczeństwo, a jego pierwszą ofiarą jest matka Merlina. Aby ją uratować, chłopiec musi poznać tajniki Siedmiu Magicznych Pieśni i znaleźć wejście do Studni do Zaświata. Zanim tego dokona, czeka go starcie z jednookim ogrem, którego spojrzenie może być zabójcze.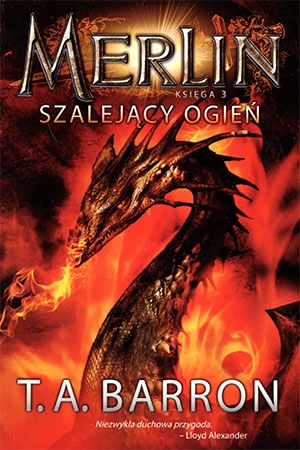 MERLIN KSIĘGA 3: SZALEJĄCY OGIEŃ
ISBN: 978-83-7778-263-7
Śpiący smok Ogniste Skrzydła zbudził się i zagraża całej Fincayrze. Może go powstrzymać tylko Merlin, mimo że nie panuje on jeszcze w pełni nad swoimi magicznymi mocami. Jednak zanim stawi czoło smoczemu ogniowi, młody czarodziej będzie musiał się zmierzyć z innymi żywiołami, również tymi drzemiącymi w nim samym. I co najważniejsze, będzie musiał odkryć moc — jak również źródło — własnej magii.
MERLIN KSIĘGA 4: LUSTRO LOSU
ISBN: 978-83-7778-294-1
Dziwne zło szerzy się na magicznej wyspie Fincayrze. Aby ocalić swoją nową ojczynę i swoją przlość, Merlin musi udać się na wyprawę w przerażające zakątki – wyspy i własnej duszy. W towarzystwie Hallii, kobiety-łani, w której się zakochał, i swojego krnąbrnego cienia odkryje magiczne lustro obdarzone mocą zmiany losu każdego człowieka. Kiedy jednak w nie spojrzy, zobaczy kogoś, kogo najmniej się spodziewa ujrzeć.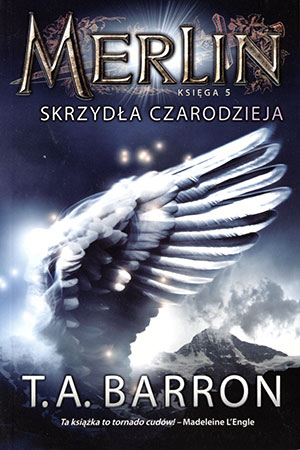 MERLIN KSIĘGA 5: SKRZDŁA CZARODZIEJA
ISBN: 978-83-7778-472-3
Nadciąga najdłuższa noc zimy i Merlina czeka najtrudniejsze wyzwanie jego życia. Musi przekonać mieszkańców Fincayry, żeby wspólnie stawili czoło złemu duchowi Rhicie Gawrowi. W tle tych zmagań pojawia się tajemniczy Mieczoręki, który zabija dzieci. Czy Merlinowi uda się ukoić szalejącą w jego duszyburzę namiętności, zjednoczyć Fincayran i odzyskać utracone dawno temu skrzydła, które pozwolą jemu i wszytkim mieszkańcom wyspy skutecznie odeprzeć zmasowany atak wroga?