T. A. BARRON'S BOOKS IN SPAIN
New editions of T. A Barron's books are being published in Spain by RBA Libros.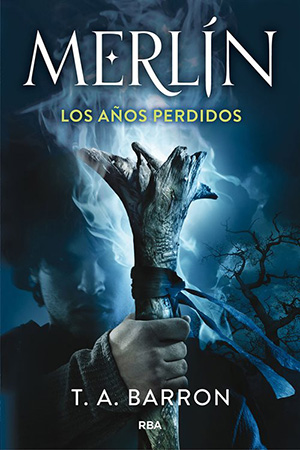 MERLÍN. LOS AÑOS PERDIDOS
ISBN: 9788491877653
Sin nombre
Sin recuerdos
Sin hogar

Un mar embravecido arroja a un niño a la costa del antiguo Gales. Aunque no lo sabe, algún día se convertirá en el mago más grande de todos los tiempos. Abandonado a su suerte, y decidido a averiguar quién es y a conocer la verdad sobre sus misteriosos poderes, se adentra en una tierra ignota y encantada. Una tierra a la que su destino está profundamente ligado.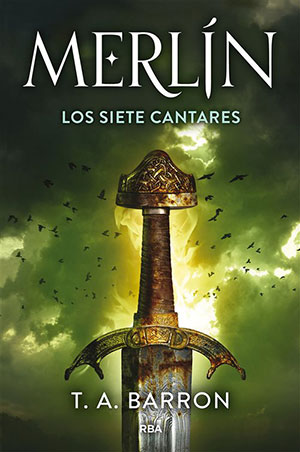 MERLÍN. LOS SIETE CANTARES
ISBN: 9788411320184

UN RETO INESPERADO
UNA CARRERA CONTRA EL TIEMPO
UN DESTINO INCIERTO

El joven Merlín ha liberado a Fincayra, la isla encantada que se oculta entre la tierra y el cielo, de una espantosa plaga. Aun así, esta tierra mística continúa estando en peligro y las verdaderas pruebas que Merlín debe superar apenas han comenzado. A fin de salvar a su madre enferma, Merlín habrá de dominar los Siete Cantares de la Hechicería. Durante el viaje, se enfrentará a una tarea imposible: derrotar a un abominable ogro capaz de matar con su sola mirada.
Previous Editions
Previous editions of T. A. Barron's books (now out of print) were published in Spain by Timun Mas.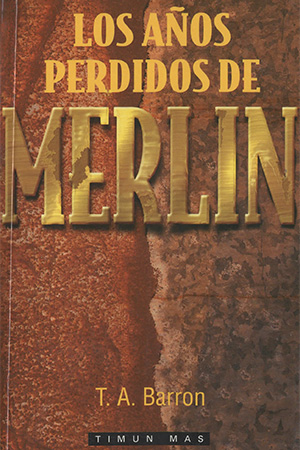 LOS AÑOS PERDIDOS DE MERLIN (VOLUMEN 1)
ISBN: 84-480-3156-3
Rechazado por el mar, el niño yacia sobre las rocas. Habia logrado sobrevivir, era cierto, pero no tenia hogar. Ni memoria. Ni nombre. Así comienza la historia de un muchacho que, arrojado por las olas a las costas de la antigua Gales, está decidido a encontrar su verdadero hogar y su auténtico nombre. Un día se convertirá en el mago más grande de todos los tiempos, pero ahora no sabe nada de eso. Sobre el regazo de Branwen, la misteriosa mujer que afirma ser su madre, el niño aprende las tradiciones ancestrales de los celtas, de los druidas e incluso de pueblos más antiguos. Pero el secreto de su identidad parece eludirlo siempre. Resuelto a averiguar la verdad, así como a esclarecer el misterio sobre sus propios poderes, abandona su hogar y viaja a la isla de Fincayra, una región encantada entre la tierra y el cielo, asolada por el infortunio. Y descubre que el destino de esa tierra y el resultado de su búsqueda están extrañamente vinculados…, pero para desvelar todo el misterio antes debe resolver el enigma del Baile de los Gigantes.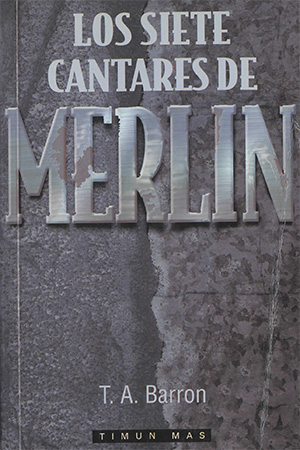 LOS SIETE CANTARES DE MERLIN (VOLUMEN 2)
ISBN: 84-480-3157-1
El joven Merlín trajo nuevas esperanzas a Fincayra, la isla encantada que existe entre el cielo y la tierra. Tras erradicar la temible Plaga, Merlín y Rhia, la niña de los bosques, se disponen a restaurar la tierra, empleando la mágica Arpa en Flor. Pero Fincayra todavía corre un gran peligro y la primera víctima de esta nueva oleada de maldad es la madre del propio Merlín. La única esperanza que le queda a Merlín de salvar la vida de su madre es dominar los Siete Cantares de la Sabiduría, transmitidos por el mago más grande que Fincayra ha conocido: Tuatha, el abuelo de Merlín. Sólo entonces el joven aprendiz podrá viajar al Otro Mundo y obtener el preciado Elixir de Dagda. Pero antes debe triunfar donde el propio Tuatha había fracasado y derrotar a Balor, el ogro cuya sola mirada significa la muerte.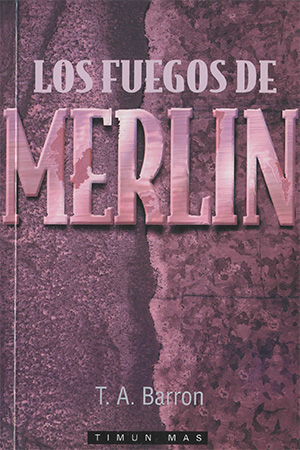 LOS FUEGOS DE MERLIN (VOLUMEN 3)
ISBN: 84-480-3158-X
Alas de fuego, el dragón durmiente, ha despertado y amenaza con descargar su terrible ira sobre toda Fincayra. Sólo el joven Merlín, cuyos poderes mágicos son recientes y no han sido probados, puede detenerlo…aunque ello quizá le cueste la vida.
Pero antes de enfrentarse al fuego del dragón, Merlín debe afrontar otros fuegos, incluido el que arde en su interior. Debe plantar cara a los temidos kreelix, cuya existencia está consagrada a destruir la magia, a la misteriosa Rueda de Wye, y a la hechicera Domnu, que custodia el preciado Galator. Y, los más difícil, Merlín debe descubrir el poder y el origen de su propia magia.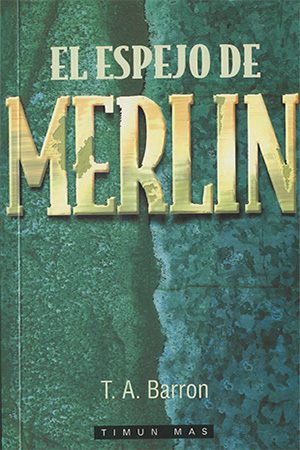 EL ESPEJO DE MERLIN (VOLUMEN 4)
ISBN: 84-480-3207-1
Un extraño mal ha surgido en una remota ciénaga de la isla mágica de Fincayra. Para salvar su tierra natal, además de su propio destino, el joven Merlín debe viajar a lugares aterradores, tanto de su mundo como del interior de su ser. Acompañado por Hallia, la mujer ciervo a quien ama, y por su propia sombra traviesa, Merlín descubre un espejo mágico que puede cambiar el destino de cualquiera. Pero cuando se mira en él, la persona que contempla no es la que esperaba ver. La serie Las aventuras del joven Merlin de T.A. Barron añade una nueva y cautivadora dimension a la leyenda de Merlín, el importante personaje que se convertirá en mentor del rey Arturo y que sería el sabio más grande de su tiempo.