I'm thrilled to announce that the movie of The Merlin Saga is making great progress! The project is in active development by the experienced folks at Disney. We have a terrific team with producer Gil Netter (who produced Life of Pi and The Blind Side), as well as superb script writers including Chris Weitz (who wrote Rogue One: A Star Wars Story, The Golden Compass, Twilight: New Moon, and Disney's Cinderella), and previously, Oscar-winning screenwriter Philippa Boyens (who co-wrote the films of The Lord of the Rings).
This whole movie experience is, let me tell you, one AMAZING journey. With a plot even more bizarre than one of my fantasy novels. But here's the big news:
The film is making great progress… with fabulous people who are bringing it to life. And I'm very glad to say they are staying true to the core values and key elements of the books. So I'm very excited about what lies ahead!
Because I can't keep up with all the questions and comments from fans, I will update this page regularly. Any big news that I can share will be announced right here on this page. After all, you folks are my companions on this journey!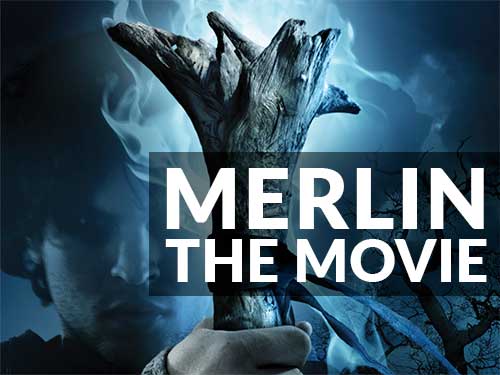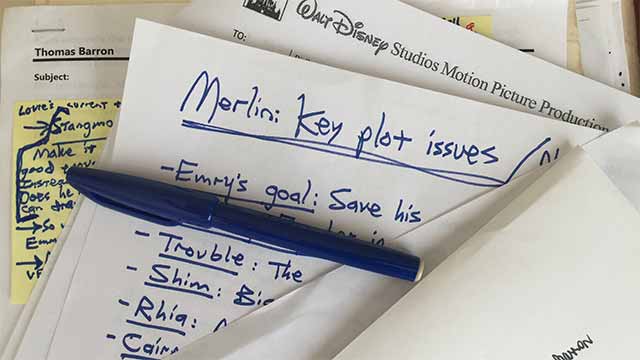 Notes from a May, 2019 meeting with Disney
October, 2021
Despite the twists and turns of this time for the entertainment industry, Disney has continued to make great progress on the Merlin movie. They are assembling a truly brilliant team (check out this Deadline article for spoilers). More news on that front soon. And of course… there's a certain Wizard who is always watching over this whole project!
May, 2019
Good progress on the Merlin movie at Disney! After two days of meetings, I'm very pleased with what is happening — and wherever Merlin is right now, I'm sure he feels the same.
November, 2017
Today the script arrived for the Disney movie based on The Merlin Saga. It's truly fabulous! Yes, even magical. All I can say is I'm thrilled with what script writer Philippa Boyens has done to adapt this story to the big screen.
February, 2017
Right now I'm in Wellington, New Zealand. It's a beautiful place to be for any reason — especially for creative meetings with Philippa Boyens, the wonderful script writer who is working on the Merlin movie for Disney. She's a brilliant story teller, a true master of her craft, and I love the way she thinks. We're having fabulous, wide-ranging conversations. Exciting!
I'm learning a lot about how very different writing a film is from writing a novel — even as the basics of powerful storytelling remain constant. And I'm feeling very grateful to the folks at Disney for including me so fully at this stage of the filmmaking process (highly unusual for the author of the books). While this movie will necessarily be different in some ways from the books, they are doing a marvelous job of bringing to life the most essential and enduring elements of Merlin's adventures. I'm eager to watch the process develop — and more excited than ever to see the movie someday! There's still much hard work to do…but we are well on the way.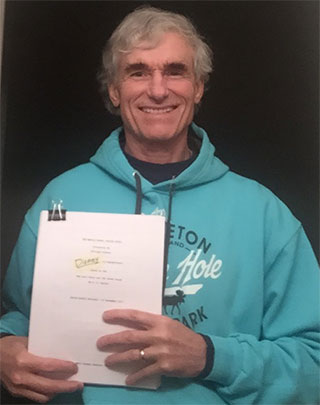 T. A. Barron holding a Merlin: The Movie script written by Philippa Boyens.
November, 2015
I'm absolutely thrilled that Philippa Boyens has joined the Merlin movie project! She is truly world class. As a creator of powerful epic fantasy on the big screen, there is nobody with more wisdom, artistry, authenticity, and (I'm delighted to say) pure magic!
January, 2015
We're making great progress on the script — the essential first step in any movie. And since this movie will be about the origins of Merlin, the greatest wizard of all time, that script needs to be absolutely terrific! It must be worthy of Merlin. That's the goal — nothing less.
My producer Gil Netter (Life of Pi, The Blind Side, Ghost) and the writers John Zinman and Patrick Masset have been working hard to craft a script that will bring the origins of Merlin to life on the big screen. Since this film will be based on my books from The Merlin Saga, they have been very inclusive of me in this process. All of us want this film to be true to the authentic young wizard who has captured the hearts of people everywhere.
In addition, the people at Disney have been the best studio partners imaginable — hugely helpful in every way. I couldn't be more excited!
October, 2014 – Here's the big news: I recently moved the Merlin movie project to a new studio — Disney. At Disney, it's had a wonderfully enthusiastic reception — and I am greatly impressed with the professionalism and passion of everyone involved. Best of all, Disney is busy assembling a truly terrific team!
We have a fabulous producer, Gil Netter. Among other films, he produced Life of Pi, The Blind Side, and Ghost. In addition, the project has attracted a pair of outstanding writers, Patrick Massett and John Zinman, to work on the script.
We still have much hard work to do … but with this team in place, and the strong support for this project at Disney, I am very encouraged. And the leader of our team, as always, is Merlin himself. He continues to inspire us all!
December, 2012 – Good news — Warner Bros. Studio recently renewed its option to develop this film. That's a good sign of their excitement about this project — though still a long way from the Merlin movie we all want to see.
More good news: As part of this process, the studio has asked a certain writer to help on the screenplay — somebody by the name of T. A. Barron. I'm delighted to have this new opportunity to help WB create a powerful, magical movie about young Merlin's adventures! So all of you friends of Merlin out there … send your magic toward Hollywood.
September, 2012 – Just received the first draft of the script. Though we still have much work to do … the script is beginning to take shape. Most important, it remains true to the spirit of our friend Merlin.
Where It All Began – As some of you know, I've been working to make The Merlin Saga a film for quite a long time — 17 years (and counting). It's been quite a journey, and it's taken me through many ups and downs across 4 major studios. But the goal has never been just to make a movie — the goal is a truly awesome movie … or no movie at all. I'd much rather have no film than one which isn't up to the highest levels of artistry and meaning. Merlin — and you — deserve nothing less!
Through all this, you have been with me. So has a certain wizard. And who knows where this journey will ultimately take us? Wherever that may be, I have a feeling it will be somewhere magical.