T. A. BARRON'S BOOKS IN THE NETHERLANDS
T. A. Barron's books are currently out of print in the Netherlands. The following books were previously published by Merweboek Uitgeverij.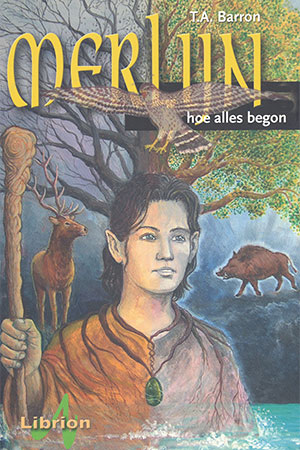 MERLIJN HOE ALLES BEGON
ISBN: 978-90-5290-009-4
Op de kust van het oude Wales spoelt een jongen aan: hij heeft geen huis, geen geheugen en geen naam… maar is wel voorbestemd om de grootste tovenaar aller tijden te worden, al weet hij daar nu nog niets van.
Onder de hoede van de mysterieuze Branwen, die beweert dat ze zijn moeder is, doet hij kennis op uit de overleveringen van de Kelten, de Druïden en nog oudere volken. Maar het geheim van zijn eigen identiteit lijkt hij maar niet te kunnen achterhalen.
Om de waarheid en het geheim van zijn magische krachten te ontdekken vlucht hij naar het in nevelen gehulde eiland Fincayra, een betoverd land tussen aarde en hemel dat verwoest dreigt te worden door een groot kwaad. Daar ontmoet hij o.a. het meisje Rhia, de kleine reus Shim en de boosaardige Rhita Gawr.
Hij ontdekt dat het lot van Fincayra en dat van zijn eigen zoektocht op een vreemde manier met elkaar verstrengeld zijn…maar eerst moet hij het raadsel van de Dans van de Reuzen oplossen.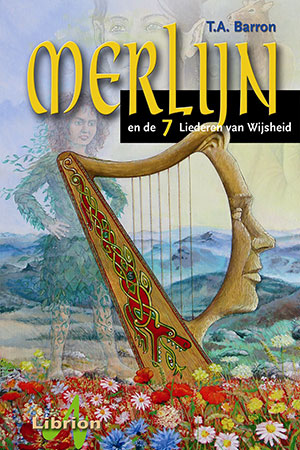 MERLIJN END DE ZEVEN LIEDEREN VAN WIJSHEID
ISBN: 978-90-5290-015-5
De jonge Merlijn heeft nieuwe hoop gebracht in Fincayra, het betoverde eiland tussen hemel en aarde. (zie deel 1: Merlijn – hoe alles begon)
Nu ze het eiland hebben bevrijd van het verschrikkelijke Verderf, trekken Merlijn en het bosmeisje Rhia eropuit om het land te genezen met behulp van de magische Bloeiende Harp. Maar het gevaar voor Fincayra ligt nog altijd op de loer – en het eerste slachtoffer van een nieuwe aanvalsgolf van het kwaad is de moeder van Merlijn.
Merlijn's enige hoop voor de redding van zijn moeders leven ligt in het bemachtigen van de Zeven Liederen van Wijsheid, die zijn overgeleverd door de grootste tovenaar die Fincayra ooit heeft gekend, namelijk Merlijn's grootvader Tuatha. Alleen dan kan hij naar de Anderwereld reizen om het kostbare Elixer van Dagda te verkrijgen.
Daarvoor moet hij echter eerst slagen waar zelfs Tuatha faalde – het verslaan van Balor, de eenogige reus van wie zelfs de blik al dodelijk is. Bovendien, en dat is nog moeilijker, moet Merlijn het geheim ontdekken van hoe je niet met ogen kunt zien maar met je hart.