T. A. BARRON'S BOOKS IN SERBIA
T. A. Barron's books are currently out of print in Serbia. The following book was previously published by Vulkan Izdavaštva.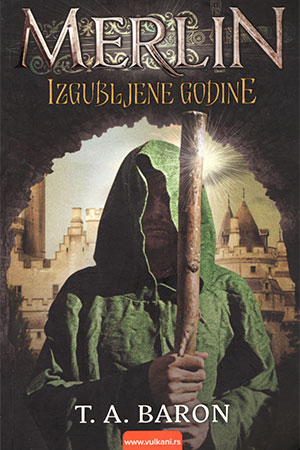 MERLIN: IZGUBLJENE GODINE
ISBN: 9788610000030
OTKRIJTE UZBUDLJIVU NOVU DIMENZIJU LEGENDE O MERLINU I KRENITE NA NEVEROVATNO PUTOVANJE DUHA, TELA I DUŠE!
Jedan dečak leži na stenama nepomičan, kao da je mrtav. Iako je preživeo, on nema dom. Nema sećanja. I nema ime.
Tako počinje priča o neobičnom dečaku koji se zatekao na obalama drevnog Velsa, i koji je rešen da pronade svoj pravi dom i svoje pravo ime. Jednog dana, postaće najveći čarobnjak svih vremena, ali on o tome još ništa ne zna.
U krilu tajanstvene Branver, koja tvrdi da mu je majka, dečak će slušati priče o mudrosti Kelta, Druida, i naroda još starijih. Ipak, tajna njegovog identiteta kao da mu uvek izmiče. Kako bi otkrio istinu o sebi i svojim moćima, on odlazi na putovanje po maglom obavijenoj Finkajri, magičnom mestu izmedu zemlje i neba, na pola puta izmedu našeg sveta i sveta duhova. Hoće li tamo otkriti da su sudbina te zemlje i njegova potraga neobično povezane?