T. A. BARRON'S BOOKS IN GREECE
T. A. Barron's books are currently out of print in Greece. The following book was previously published by Psichogios Publications, SA.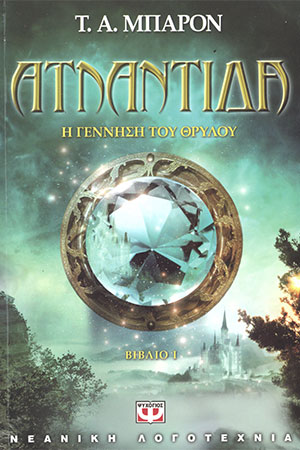 ΑΤΛΑΝΤΙΔΑ: Η ΓΕΝΝΗΣΗ ΤΟΥ ΘΡΥΛΟΥ
ISBN: 978-618-01-0709-8
Σε μια χώρα μαγική, την Ελεγκάντια, ένα νεαρό αγόρι, ο Πρόμι, προσπαθεί να επιβιώσει κλέβοντας πίτες, κέικ και γλυκά. Δεν του περνάει από το μυαλό ότι ο τόπος του είναι ένα πιόνι, το μέρος όπου εδώ και αιώνες μαίνεται ένας πόλεμος ανάμεσα στο καλό και στο κακό. Κουβαλώντας τα δικά του μυστικά, ο Πρόμι συναντά ένα γενναίο κορίτσι, την Ατλάντα. Οι δυο τους ορκίζονται να σώσουν τη χώρα τους -και ο ένας τον άλλον- με κάθε τίμημα. Ωστόσο, δεν μπορούν να φανταστούν ότι ο όρκος τους θα οδηγήσει στη γέννηση της Ατλαντίδας, ενός νησιού αποκομμένου από τον υπόλοιπο κόσμο, όπου κυριαρχεί η απόλυτη μαγεία.