Atlantis Rising Tour – Colorado's Front Range and the East Coast

What a wonderful time this book tour has been! I've met a lot of lovely families and educators and visited some great bookstores with passionate readers. But truly, there's no place like home! This week I have a few events in Colorado at locations that are near and dear to my heart – the Boulder Book Store and the Tattered Cover. I love spending time with my local fans, and best of all, I get to go home to my family at night.
Thinking back on the past several weeks of book events, there were too many surprises and gifts to list them all. But to give you a taste (pun definitely intended), here's an image of a gift from a fan in Houston, Texas — a unique cupcake in honor of Atlantis Rising! (It tasted good, too.)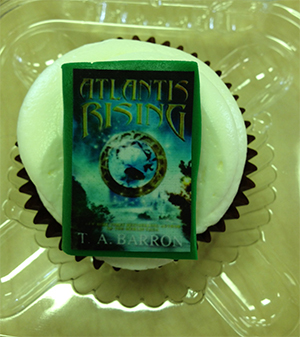 Next week I'll be back on the road with several stops along the East Coast – in Pennsylvania, New Jersey, New York, and Massachusetts. If I visit a book store near you – I hope you'll join me. I'd love to meet you and sign your copy of Atlantis Rising!
Boulder Book Store
Presentation & Book Signing
November 7 @ 6:30 pm
1107 Pearl Street
Boulder, CO 80302
Tattered Cover Book Store
Presentation & Book Signing
November 9 @ 3:00 pm
9315 Dorchester Street,
Highlands Ranch, CO 80129
Moravian Book Shop
Presentation & Book Signing
November 14 @ 11:00 am
428 Main Street
Bethlehem, PA 18018
Labyrinth Books @ Princeton Public Library
Presentation & Book Signing
November 14 @ 7:00 pm
65 Witherspoon Street
Princeton, NJ 08542
Books of Wonder
Presentation & Book Signing
November 16 @ 3:00 pm
18 West 18th Street
New York, NY 10011
Tatnuck Bookseller
Presentation & Book Signing
November 20 @ 6:00 pm
18 Lyman Street
Westborough, MA 01581
Willow Books
Presentation & Book Signing
November 21 @ 6:00 pm
279 Great Road
Acton, MA 01720