Wrapping up my Atlantis Lost Book Tour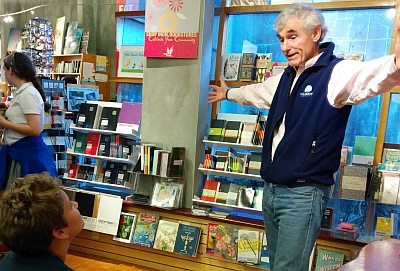 As I wrote about in my last blog entry, I've been dashing around the country this autumn in celebration of the release of the third and final book ofThe Atlantis Saga. Last weekend, after an amazing Thanksgiving with family and friends, I joined readers and friends at two local bookstores to wrap up the tour with some appearances close to home. After more than 20 years I'm no stranger to book junkets, but this tour had its own special magic — the thrill of a new book being released, the joy of seeing readers and fans old and new, and the comfort and warm welcome I felt as I visited with so many of you across the country in celebration of the release of Atlantis Lost.
I am incredibly grateful to everyone who came out to hear me speak, to have a book signed, and to chat with me not only about the magical world of Atlantis, but also about the fantastical universes of my other books. I received such an incredibly warm welcome at every stop — both at schools and in bookstores — it truly warmed my heart.
This time around, my schedule was long, and sometimes exhausting (plenty of 6:00 am flights!) but each time I arrived in a new city and had a chance to see and speak to all of you, it gave me such energy I felt like I could have run a marathon!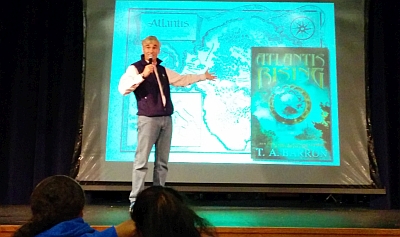 It was especially lovely to see all my friends at some of the schools and independent bookstores across the US who have continued to champion my books through the years. To an author, these people — like readers — are really invaluable, because they are how my stories reach audiences who may not have heard of them yet. I owe a tremendous debt to them, and give thanks every day for their dedication and reader advocacy.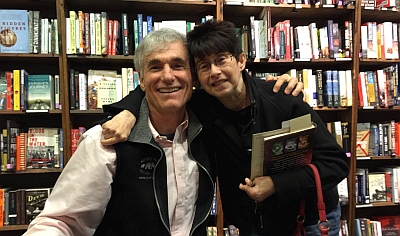 When I wrapped up the tour this weekend back in my Colorado hometown, I saw some familiar faces — the fan in this photo has attended every single one of my events at the Tattered Cover bookstore here in Boulder!
The wrap up of my Atlantis Lost tour marks end of a long road and a lot of hard work. But what a joy it has been to have been a part of it!