The Real Story of THE ANCIENT ONE

I'm very excited that my book,
The Ancient One
, is being re-released by my publisher on March 8th of this year. Originally published in 1992, the book, part of the
Adventures of Kate
, tells the story of Kate, an inquisitive teenager who finds herself caught in a battle over the fate of a pristine Redwood forest discovered on a sacred Native American site. It's a book filled with adventure, time-travel, and magic, and I've been honored by the number of fans over the years who have let me know that this book is among their favorites.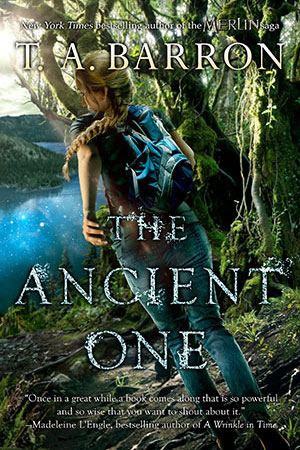 Last year, The Huffington Post listed The Ancient One among their "9 Best Trees in Literature", and it was a thrill to find it listed among such other memorable literary trees as The Giving Tree and the "Whomping Willow". But the real magic of the story, I think, is that it was inspired by a very real encounter with an awe-inspiring redwood, many years ago.
The Day I Met the Real 'Ancient One'
The story of The Ancient One began over 20 years ago when I was on a solo hike in the California wilderness. Walking through the forest, I encountered the most magnificent tree I'd ever seen — it was a giant tree of such grandeur that I nearly fell over backward trying to see its highest boughs. For the rest of the day, I couldn't bring myself to leave this amazing Goliath of the forest; there was just something magical about it. I lingered in that grove for the rest of the day, and even though I had only meant for my hike to last until day's-end, at sunset I still wasn't ready to leave my towering new friend. The trouble was, I hadn't brought a sleeping bag or food! Despite these small obstacles, I felt I just had to stay in that grove.
I'm not certain whether I slept during my night in the forest with the real Ancient One. What has stayed in my mind, however, is the memory of feeling an extraordinary sense of peace. "What stories could this tree tell?", I wondered through the night. What had it seen in its thousands of years here on this earth? And what could it use its great wisdom to teach us about living on this planet?
The new edition of The Ancient One is published by Puffin Books, and will be available in bookstores everywhere March 8th.