Atlantis Rising Tour Wrap Up

My Atlantis Rising book tour has come to an end. From Seattle to New York, with 22 events (not including my trip across the pond to Oxford!) in almost as many cities it has been a wild adventure indeed! But I have had so much fun meeting all of you, hearing your stories and, of course, signing your books! Even though being on the road is tiring, and being away from my family is difficult at times, your enthusiasm is so encouraging and makes it all worthwhile.
The November portion of the tour took me to a few stops close to home, including the Boulder Bookstore, and the iconic Tattered Cover in Denver. More than 150 joined me at the Tattered Cover. But the best part was not the numbers – it was the enthusiasm. So much warm, heartfelt appreciation of the books we've shared over the years! I'm grateful for those wonderful folks…and for the community that stories create, a community we can all enjoy.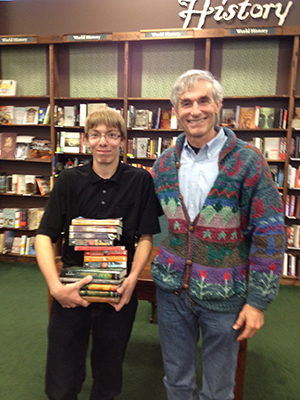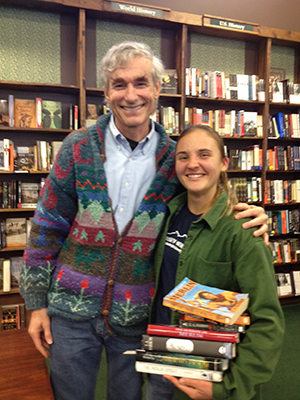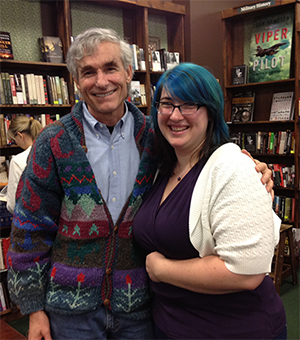 My next stop was the Moravian Book Shop in Bethlehem, PA. This is what my signing table looks like during these busy events!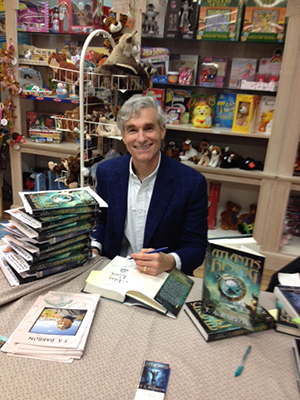 And then it was on to New York and Books of Wonder. Over 20 years ago, my very first book event (for my first published novel, Heartlight) was at this store. So it was very special indeed to return there! At that original event, the wonderful writer Madeleine L'Engle graciously introduced me and said, "Someday, I predict, this young man will come back here with many more books to his name."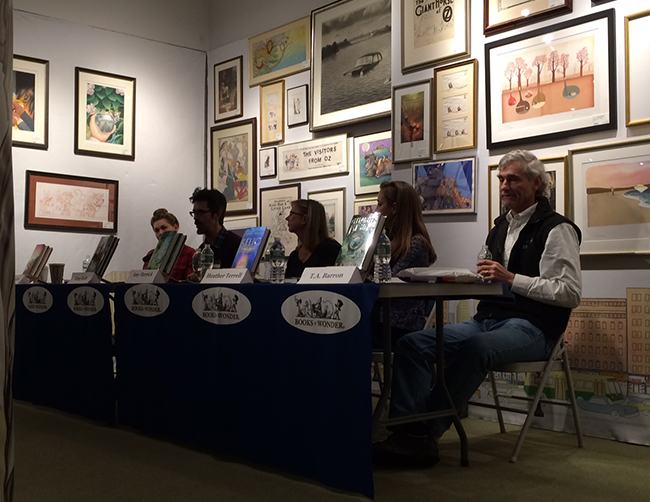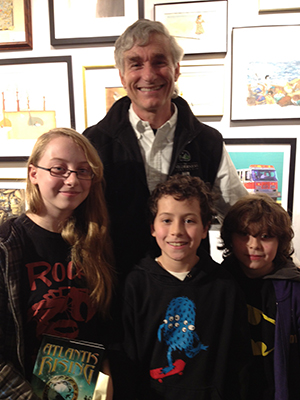 Back then I wasn't so sure. But now, 24 books later…I guess she was right after all. Which is one reason I feel so grateful! In addition to participating in a Q & A with a few other authors, I also got to meet some fans and sign their books.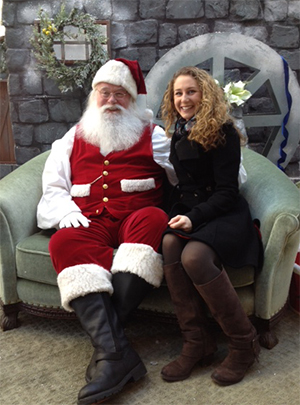 During my Boston events…I found my editor, Jill, meeting with this rather jovial fellow. Could he possibly have a story he wants published?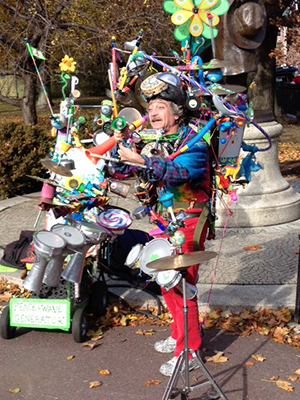 After my book events in Boston, I took a lovely walk with a friend to Boston Common (famous for inspiring the book Make Way for Ducklings). We saw ducklings — as well as this phenomenal one-man band. He played everything…with real joy.
I want to send a huge thank you to everyone who came to all my events along the way. I could not do what I do without you – and I appreciate that you took the time out of your day to come share a little of your life with me!
If I didn't make it to your city on this tour, fear not! I'll be on the road again soon enough – and hopefully we'll have a chance to meet next time.