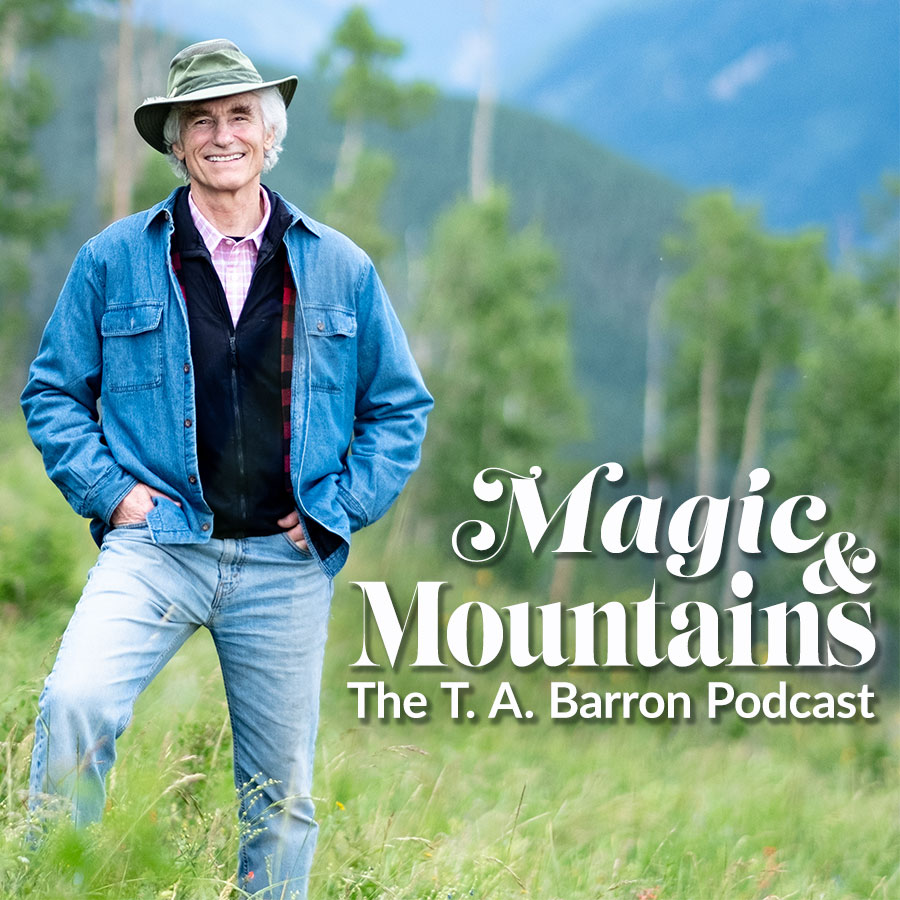 Writing from Your Soul
with Patti Gauch
Season 2, Episode 5
Are we willing to walk with our characters? Are we willing to go far enough? Are we willing to let go to find transcendence?
This episode's special guest is former Editor in Chief of Philomel Books, Patricia Lee Gauch. Patti (as she's known by her friends) was T. A. Barron's editor for over 30 years – editing 27 of his 32 books.
T. A. and Patti speak passionately about finding the core values of your story, then protecting and nurturing them, and letting them shine organically. Hear two seasoned writers explore the power of humor and magic in stories, as well as the importance of voice.
Patti urges us, "Trust the universal storyteller in you. If you only trust your brain, you may have a compositionally powerful piece, but you may have missed the beating heart. And that is what we're going for – the beating heart."
Where did it all begin for Patti? And… how do we, as authors, earn our ending?
You don't want to miss this lively and completely inspiring conversation about voice, character, and the beating heart of story.
Aspiring writers – this one's for you.
Check out Patricia Lee Gauch's novels and picture books.
Magic & Mountains is hosted by T. A. Barron, beloved author of 32 books and counting. Carolyn Hunter is co-host.
Magic & Mountains Theme Song by Julian Peterson.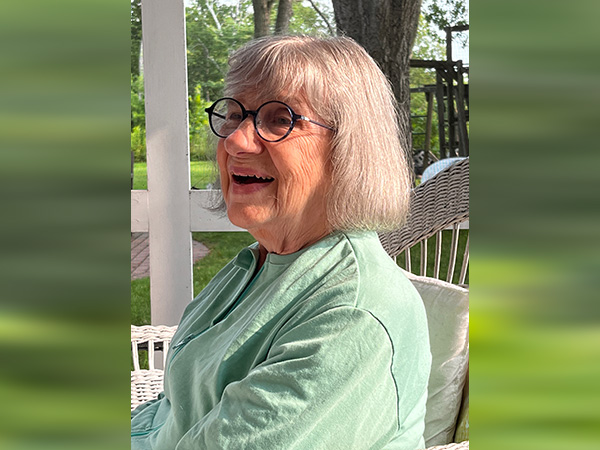 Patricia Lee Gauch
I am Patricia Lee Gauch, my writers call me Patti. I have worn many hats – journalist, author, teacher, lecturer and finally editor, but all of my hats have been grounded in writing. And my relationships with my writers have passed into sacred space, from my point of view. I have worked with Patricia Polacco, Brian Jacques, Eric Carle, Andrew Clements, Janet Lisle, Jane Yolen, but the first writer I worked with at Philomel was T.A. Barron. The renowned Madeleine L'Engle discovered him at a retreat, was impressed, and brought him to my agent Dorothy Markinko, and she brought him to me, fledgling editor.
He was and always has been an unusual mix of writer of fantasy writer and environmentalist, wroter of fantasy and philosopher. As he walks his Colorado mountains, which he does regularly, he is always searching for ideas. His characters are often paradigms, rich in their humor, their courage, their humanity. That's Tom, searching. And discovering.
Tom and my fondest memories were rooted in editorial sessions at his mountaintop cabin in Colorado. We would sit in a window that looked out on a meadow, simply breathing open air, and we would begin a somewhat miraculous brainstorming. I was often the tip-master, but Tom could catch fireflies of ideas, and when he realized that there was a key Merlin story still to be told, he began writing his life's work.
We are partners still. And partners here today.
Note: Magic & Mountains: The T. A. Barron Podcast is produced for the ear and designed to be heard. If you are able, we strongly encourage you to listen to the audio, which includes emotion and emphasis that's not on the page. Transcripts are generated using a combination of speech recognition software and human transcribers, and may contain errors. Please check the corresponding audio before quoting in print.
Writing from Your Soul with Patti Gauch
T. A. Barron
Welcome, everyone. This is
Magic & Mountains
.
Carolyn Hunter
The T. A. Barron Podcast.
T. A. Barron
Patricia Lee Gauch was editorial director of Philomel Books, now a division of Penguin for almost 25 years. She holds a doctorate in English literature. She's taught writing and children's literature on the college level. She has reviewed for The New York Times and other publications. Patty has also edited three Caldecott books. Owl Moon by Jane Yolen, illustrated by John Schoenherr; Lon Po Po by Ed Young; and So You Want to Be President by Judith St. George, illustrated by David Small. And, on top of all that, she has worked with many well-known artists and authors, including people like Eric Carle, Patricia Polacco, Brian Jacques, and, oh yeah, some guy out in Colorado named T. A… something.
In addition to her work as an editor, Patti has also written 39 books of her own, among them Thunder at Gettysburg; This Time, [Tempe Wick?]; Christina Katerina and the Box; and Dance, Tanya. This I will say, Patti Gauch loves to ask through storytelling the deepest, most profound questions about life. And I can also testify from experience that, Patti, you are absolutely relentless in urging your writers to rise to their very highest levels. And the result is this: Any book that has the name Patricia Lee Gauch, whether as writer or editor, promises to be a treasure, an enduring source of light. So I am just thrilled to be here with you, Patti.
Patti Gauch
It was lovely that you thought of it. I thought to myself, that's quite wonderful.
T. A. Barron
Well, I think an appropriate place to start would be where it all began for you. Your love of stories and your love of characters and places and big ideas. I can't help but imagine you as a child in Michigan, outside, barefoot, sitting under a tree, reading a book. Tell us about how your love of books and stories happened.
Patti Gauch
That's a really good question. A very real memory of mine was I had a library that used to be a candy store. And I would go with my red wagon up to the candy store, turned library, and I would pack my wagon with as many books as the librarian would let me. And of course, I would sneer at her because she tried to limit me, and I was not happy with that. And I'd pack them in and I would pull them home. But before I got home, I always stopped at a tree nearby and sat on the roots of the tree, and I would start reading them. So it started there.
And it's one thing to read, and I loved reading. I particularly, incidentally, loved all of the Laura Ingalls Wilder's books, and I cried when the last one came. But at the same time, what's interesting for us, Tom, is that I used to read fairy tales. And I can remember, I must have been seven or eight years old, saying to myself, this one is a good tale, this one is not a good tale. Something is missing in this story, and I was not satisfied with certain fairy tales. So this is when I was seven or eight years old.
T. A. Barron
You're still at the age you're towing that little red wagon, practically, but you're noticing what is a story that really lands with you?
Patti Gauch
Yes.
T. A. Barron
Tell us more about that, Patti. What do you think it was?
Patti Gauch
Well, I think I look at books of all ages spatially, so I could almost describe a book spatially. I could say that it's an arc, or I could say that a third of the way through, I feel there's a rise to it. I feel like a little bit further on, there needs to be characters meeting each other, doing something. So I have a very spatial approach to editing. Not that I designed it that way, but I feel it that way, and where I feel it really is in the back of my neck. So I'm listening to myself. I'm listening to my own body when I read a book. So when I used to read your manuscripts, I was reading it with that in mind. I was listening to myself.
T. A. Barron
And I remember so many times when we were sitting in your garden room at your home or out in the meadow at our cabin up in the mountains, and you would draw a chart. You would draw that arc and make points along the way where you wanted to emphasize suspense or tension or maybe inject a little humor or slow the pace down for a breath, things like that.
Patti Gauch
I think that's exactly right. Sometimes there's no other way to say, look, you're not earning your ending, for example. You're not earning it. What that means is the part before the ending has energy in it. You've taken your character. In this case, it would be Merlin. You've taken your character and you want it to get to that climax, but you have to earn it. You're not ready for that climax yet. So as an editor, that's one of my jobs, is to make certain, in a sense, that the middle is right, that the beginning is right. And that always, always, you write with passion. If ever I hear boredom, if ever I hear a plateauing, I probably won't tolerate it. I'll say, you can't do that to yourself. I can hear the wind in your sails. I know you travel with the wind. Right? But you need more here.
T. A. Barron
You know, Patti, you just reminded me that the English Romantic poets used the metaphor of the wind in a different way. They thought about Aeolian harps, which, as you know, are set outside and their strings are made to make music by the sound of the wind moving the strings. And I remember reading somewhere that one of the Romantic poets, I think it may have been Coleridge, said that he likes that because the goal of poetry is to find the right language that would vibrate in the strings of the human heart.
Patti Gauch
I appreciate what you just said. I was looking through my notes, preparing to come today, and I was drawing an analogy between you and the wind. And I was thinking to myself, he writes like the wind, and he just lets it – you know how the wind is. The wind blows across the pane, or the wind blows into a valley, or a wind kind of circles around a bush or whatever. And that's the way I felt when I was rereading some of your books on the last few days. And I thought, he writes like the wind, and he lets the… wherever he is… take it somewhere. So a phrase that I use very often is, "Are you going far enough?" And so what I was seeing and remembering is that because you write like the wind, you often go far enough. Yeah.
T. A. Barron
Wow. I love that image. And it becomes that way, doesn't it, when you're immersed in the writing process? I feel like I can't write fast enough when it all comes together at the same time. I would also add that writing is both the hardest labor and the most meaningful labor that people like us get to do. We have to really be engaged with both sides of our brain, and all of our passion and our intellect have to be fully there and aware of – Who are these characters? How do we bring them to life? What does their voice sound like? What are their deepest secrets? And also, the same with place. That's one of the realms that you and I have always had fun exploring and taking farther. I think we both see place as a form of character.
Patti Gauch
I was just going to say, I think place, when it's well done, is a character. And you could call it a character because there's a breadth to it. It has a real moment. You don't very quickly say, well, it was a little red schoolhouse. That's just not what place means. Place resonates. I think that was something that you always understand and understood. And, you know, Tom, that has old roots. There is a closeness between fantasy and the natural world. And so, it was something that C. S. Lewis discovered, George MacDonald discovered, these authors that there's this strange, symbiotic relationship between place and character, particularly in fantasy.
T. A. Barron
Tolkien, too, right?
Patti Gauch
Tolkien, absolutely.
T. A. Barron
Yeah, I agree with you. And I think that's not accidental, because the first origins of magic were in observing the natural world and feeling wonder at the motion of water, or the flight of clouds, or a bird on high, or a night full of bright stars, an ancient forest. All of these convey wonder and magic. And how does that happen? How do the seasons come back? How does the moon keep refilling itself and then disappear? All of these kinds of questions. That's the origin of magic, and that's the first step toward fantasy.
Patti Gauch
It's also… not everybody sees that, not everybody hears that. It has occurred to me that writers of fantasy, the best fantasy, are always looking for transcendence. They're always looking to take flight. And that doesn't happen by accident. It happens because the author is willing to go to that place, is willing to let go to transcendence, willing to say, look, that's reality, too. I love the idea of your reaching for the stars and how often in your books you reach for the stars, or you reach for the constellations. So that's a gift of you personally and, of course, other people as well. But it is certainly, I think, a mark of your work.
[Music Plays]
T. A. Barron
Patti, we've often talked about the idea that good fantasy, good storytelling must be true. And to some people, that sounds paradoxical. How can made up, imaginative stories be true? But could you talk a bit about what that means to you?
Patti Gauch
You know, it's interesting because it might go back farther than you think. There are people who believe in the collective unconscious, right? Like Jung, Joseph Campbell? And they believe that there is a kind of story well. Why is a story in Fiji almost the same as a story in Switzerland? What's going on? What do we share as human beings in some kind of a story well? So, there is that in us, kind of a genetic story well. And if we let go to it, if we believe in it, we can pluck it out. We can say, I feel that I hear that. I think not everybody can do it. Not everybody recognizes that it's there. But I like to think of it as a well, a story well.
T. A. Barron
I love that. And that's part of why stories connect all people, of all cultures, and across all times. Think about that for a moment. That's just an incredible power embedded in story. I love your image of the well, in fact, it reminds me that sometimes you've talked about the emergence of story as having to do with going into the belly of the whale. Could you talk a bit about that metaphor?
Patti Gauch
Yeah, I'm not quite sure where the beginning of it started, but it's an archetypal. It's something that you see over and over in stories, and you say, oh my God, there it is again. When an author takes you into a cave, an author takes you into the belly of the whale, the author takes you into this place that, of course, if you think about it, it's a lot like where an embryo forms. Right? It's a lot –
T. A. Barron
In a womb.
Patti Gauch
Absolutely. So once again, the author is trying to give this little character or this big character a chance to live and to grow. And so, once again, think for just a minute of Pinocchio. I'm sure that the author of Pinocchio, Collodi, I guess, did not realize how archetypal he was. But look where Pinocchio ends. He goes through all of the tests of human beings. He accepts the call to adventure. He meets the Fox. He meets the Blue Fairy. He meets Jiminy Cricket. He meets the Island of the Toys. And when he's earned, there's that word earned again, he's earned the climax of his story. Then he can go to the edge of the cliff and jump, and he's jumping back into reality and what gets him? The whale.
T. A. Barron
You just gave me shivers! That's terrific.
Patti Gauch
Isn't it amazing? Yeah, it is amazing. Yeah.
T. A. Barron
Now, this is part of why stories can carry our biggest ideas, why all peoples, of all descriptions, have embedded their biggest moral precepts, their biggest questions about life, inside stories.
Patti Gauch
You know what I like to think of? I like to use the word soul. Because, it's one thing to think that your well, right, your story well, and your well, that story stores images, and its wonderful choice of the details you pick. But when you think to yourself, wait a minute, that well is something of a soul. And once you use the word soul, then you have your ideas in it, you have your values in it. It's who you are. Here you are at a certain age, and it's the composite of what you have become at the age you are. So now you're the writer. Now you're going to sit down and you're going to write your story. You're aching to use what's in your soul, because that's the impassioned part of yourself, the impassioned, thoughtful part of yourself. And I was checking some of your books, and it's amazing to me how much wisdom there is in your books. So there's great adventure, but there's great wisdom in your books. And that, I think, came from your well. It came from your soul.
T. A. Barron
Patti, you make me realize that the writer of a story has to dive deep, deep, deep down into that well, and at the same time, by the way, reaching high up to the stars, so it's boundless reach. But you have to go there as a writer before you can bring readers into those deep or high places. Right?
Patti Gauch
Absolutely. Absolutely. You have to risk it, don't you?
T. A. Barron
Yeah. That's part of how you earn it.
Patti Gauch
Yeah, that's right. And there's something about –Tom always writes with a pen or a pencil.
T. A. Barron
Right.
Patti Gauch
And – am I right, Tom? You get something from that?
T. A. Barron
I do. It slows me down, perhaps, but I feel an elemental chemistry there, with pen and paper, where characters really speak to me. I really hear their voices. And it has a pace and a description. And as I hear it in my mind, I'm writing as fast as I can or crossing out or doing the old-fashioned version of cut and paste and rearranging things. And then I rewrite it, copy it in a better form, as if I'm telling the story out loud. And that's when I really feel, okay, that's a story coming together here. Now, as we both know, it's still going to take seven, eight, nine more drafts before it's really done, but it's on the way. It's like the flour and the molasses and the butter and the rest that's in your bread is in the bowl, and you have to knead it and then let it rise and knead it again and ultimately bake it. And it will be wondrous, but the ingredients are in there.
Patti Gauch
I'm going to expand on what you said just a little bit. Not everybody agrees with this, but I think there's something in a first draft that you need to be careful to save. In other words, something that comes out of that well. And we've just discussed how magical that well is. So, something comes out of that, and you write it down, and maybe it's a paragraph, maybe it's a character, but all of a sudden, you as the author, and perhaps the editor, sees that and sees, Ah!, you don't want to lose that. So there are people, there are writers that I think come in ready to rewrite, and they fail to realize, scared by the words "first draft", they fail to realize that there's stuff in the first draft that you need to protect. It's like a baby, you know, and it's soft and gentle. You need to be careful because it's quite wonderful.
T. A. Barron
Oh, I totally agree.
Patti Gauch
Yeah.
T. A. Barron
Because I think that's the heart of the matter. There is a baby there. And also, I think getting through that first draft has helped me get clarity on, what is that baby? What is that seed that I need to guard and protect and nurture, so it's going to grow into a wonderful being of its own.
Patti Gauch
Yeah. It's something else I've recognized, maybe almost in recent years, is that a novel is made up of magnificent little scenes. It's not one continuous scene. It's these wonderful nuggets, these scenes that go almost to experience itself. So they're created by concrete images and vital words, and there's a tremendous amount of energy in them. And if you look at a whole novel, you'll say, here's that patch of energy. Oh, my God, we went there. You went there. And so there is a certain amount of protective mantle in the artist and the author taking care of what's there and nurturing it. And that doesn't always mean polishing it.
T. A. Barron
That's so true. You're hinting at the mystery that is embedded in this process, too, right?
Patti Gauch
Absolutely.
T. A. Barron
I feel a deep humility to be in this realm where there's so much power, so many important principles and useful tools, but there's also always, always, always that element of a mysterious wellspring of wisdom and heart that comes from somewhere so deep we can't even name it.
Patti Gauch
Yeah. Isn't it wonderfully said? It's a well spring.
[Music Plays]
Patti Gauch
When we were writing the bulk of your early books, we would go to your cabin, and it had a long window at the end of it, of this room that we were in. And so, you'd get in these soft, comfy chairs, and you'd look out the window and you would see wildflowers just blowing in the wind. They were tall and lovely, and all of it sort of freed one. But I think there was a sense of mission in both of us to recognize that the freedom of the moment was terribly important. Maybe just like the wildflowers blowing in the wind as we looked out the window, there was, I think, the sense in both of us that freedom was a part of this. And this trust that if we gave it enough space, that something would walk up and speak to you.
T. A. Barron
Yes. Inexplicably that's where the mystery lies.
Patti Gauch
Yes.
T. A. Barron
I remember that Madeline L'Engle used to joke she'd look at me directly, with all seriousness in her face and say, "You know, there are three essential rules for writing the perfect novel." And the first time she said that, I practically dropped my bowl of spaghetti, I was so focused on listening what she said, so she said, "There are three essential rules to writing the perfect novel. Unfortunately, nobody knows what they are."
Patti Gauch
[Laughs ] That's probably true.
T. A. Barron
And I think it conveys some of this.
Pattie Gauch
Just adding to what you said. Just let it be. Trust the storyteller. Trust the universal storyteller in you. Trust the hairs on the back of your neck that when you mention swimming in the sea and seeing a whale, that all of a sudden the back of your neck tells you that that is a really good idea. If you only trust your brain, you may have a very compositionally powerful piece, but you may have missed the beating heart. And that is what we're going for, is the beating heart.
T. A. Barron
Absolutely.
Patti Gauch
Yeah.
T. A. Barron
And what you say applies to every genre of story, too. I was doing a quick count over the weekend before speaking with you, and of my 32 books, Patti, 27 of them were edited by you. And so we've been in this a lot. And that includes picture books for young children. That includes big novels and trilogies and quintologies. It includes nonfiction books, chapter books, all the different forms of storytelling.
But in every case, you have those elemental principles of finding that seed, that baby, that core value in the story. Protecting that, and nurturing that, and finding the way to let that grow and help it grow in the midst of a good, riveting story that makes you lean forward and care about the characters and the place and what's at stake.
Patti Gauch
Yeah, I think that comes back to transcendence, again, also, so that you're going there, right. You have put your piece of paper down and you got your pencil. You're going to write this story. For example, Tom wrote a story of climbing a Colorado mountain. And Tom, I'm from Michigan, remind me of the name of that mountain that our young person climbed.
T. A. Barron
Longs Peak.
Patti Gauch
Right. So, Longs Peak…
T. A. Barron
You're talking about High as a Hawk.
Patti Gauch
I am indeed. And so he's got a piece of paper and a pencil, and he's going to write this story about this little girl that accompanied the actual explorer of the mountain. But where he's going in his heart… tell me if I'm right or wrong. He is going for a transcendence. Lucky him that it's at the top of a mountain!
T. A. Barron
Right! Exactly. Fitting metaphor!
Patti Gauch
It helps, but he's the one that's got to etch it. He could also let the story stop at a plateau. He could also get to the top of the mountain and forget to sit there long enough. So it's his job, in a sense, if he wants transcendence, it's his job to get to this peak moment and to let all of us have it, to suddenly say, look, this is not just my story, it's yours, too. Do you feel that? Right? You're speaking to the reader.
T. A. Barron
Right. And if you're extremely lucky, you have a wise editor at your side to ask those questions along the way.
You know, one of the things that you're reminding me of is that on the journey here as a writer, as a storyteller, one of the best parts is that it makes us more alive in the rest of the world, in the rest of our lives. Because we have to be fully aware of our inner life and our inner self and our core values and our emotions and our distresses and our frustrations and our devastations and our triumphs and our moments of wonder. Our sense of the miraculous, our sense of humor, all of those things. We have to be aware enough to employ and engage in just the right balance.
And at the same time, we're encouraged to be aware of what's outside ourselves. Right? To notice how people move and act and talk and gesture. As I'm gesturing right now, I can't help it, you've got me so impassioned. But I feel noticing clearly the world around us and the world inside us is essential to being a good storyteller. But it also is a wonderful way to be alive in the world.
Patti Gauch
I have run across a word that really is not my word. At least it was not ever the way I expressed it. But by young people, the word mindfulness. So they are more mindful. They're actively mindful. And it is exactly what the author has to be. The author doesn't just look at the sweep of something. He or she doesn't just look at Johnny Jones walking out on the dock and seeing the moon drop or however that's expressed, right? That's not what happens. The author looks closer. The author looks for color, for specificity, for the tiniest detail that this is authentic. That's why we believe that a story is authentic, because the author has captured the detail of it. It's a wonderful world, and it's up to us as writers and editors to notice it.
T. A. Barron
That's so true. And it's not just noticing Johnny out there in the moonlight, right? It's noticing what's going on inside of Johnny. What is his emotional struggle here? Why is he feeling the way he's feeling lost or alone or excited or doubtful? However he's feeling, the scene around him is a way of illuminating that. And as you and I have talked about so many times, often the very best way to convey that authenticity is through indirection, right? It's not head on. It's not to say Johnny was feeling upset, because it's really to indicate that by the way he walks, his posture, the way his feet shuffle on the ground or the sounds overhead, or what is he seeing that's perhaps a reflection of moonlight on the water. And how can we evoke the feelings that he has in the reader?
Patti Gauch
Yeah, I think this is true, and I think this is a big goal of writers. This is a big way to write, a direction to go in. I'll tell you one thing I've discovered. If you're at a certain part of the story and you've just brought it alive by the exquisite detail that you're conveying and the indirection, what have you, sometimes in order to get your character in a certain direction, there needs to be a declarative sentence. Mostly it's the other, but sometimes there's the declarative sentences that say, look, this is where we're going. This is what happened. So sometimes it can be an opinion, sometimes it can be a direction. But it kind of reflects on what you've just said.
T. A. Barron
Yes. You know that book we both read a year ago of Russian short stories?
Patti Gauch
I love it.
T. A. Barron
Yeah. That was just a beautiful example of exactly what we're talking about.
Patti Gauch
Yes, absolutely. In several regards. In several regards, yes.
[Music Plays]
T. A. Barron
Back to the hard labor of writing. What are your thoughts about how to make characters truly come alive? What advice would you give about that?
Patti Gauch
You know, one of the best short stories is a short story by George Saunders called Victory Lap. It's just an excellent short story. It takes the story from three different points of view. A young girl getting ready to go to a ballet class, a young boy who is kind of a nerd. He's just been a nerd. He doesn't do anything. He doesn't stand up. And another young boy who is about to break into a house.
So, what's so excellent about it is, first of all, the voices. So, whenever we talk about character – but not only when we're talking about character, but when you're talking about creating character – write with voice. Understand what voice is. It is not compositional. If it looks compositional: subject, verb, object; subject, verb, object. Or even a prepositional beginning. It probably does not contain voice. Voice is aberrant. Voice is exclamation. Voice is fragments. Voice follows voice. The way you speak, and the reader hears you. When you use voice inside a story, the reader hears you. And there's an authenticity to that.
T. A. Barron
Right! It's as if we're all sitting around that campfire eons ago sharing stories about the saber-toothed tiger that I saw on the way or what happens after someone dies or whatever the story. I often advise aspiring writers on this point: sit down in your mind and imagine you are telling the story, not writing it. You are telling the story to someone you know and trust, a friend, someone in your life. What gets them leaning forward, wanting to hear that next sentence. That's part of the gateway into finding your own voice.
Patti Gauch
I'm glad you're saying it to young writers. Sometimes when I look at the sheet of regulations that school districts put out for their young people, I have yet to see somebody have a page on voice. And yet there's nothing more important when it comes to creative writing. So, absolutely, what you've just said. In fact, you could even add because you would, Tom Barron, you would, you would add passion to it. And so, you need to feel the passion of the characters. So, the point is that if you follow the way you really speak, it's going to be aberrant. So, [The] Catcher in the Rye. If you look at the first page of [The] Catcher in the Rye, you don't need any kind of a how-to book. It's all there. The aberration is there. The alliteration is there. The passion is there. Who is he talking to? He's probably talking to a therapist.
T. A. Barron
Yes.
Patti Gauch
So when Tom said, imagine you're talking to somebody, somebody you like, make sure that somebody who you're talking to is – you would tell them anything. It's that kind of a friend. It's not your Aunt Matilda, you can't trust her. She probably will tell your mother. No, it's somebody who you feel rawly about. You would tell you you're not happy about something. You are happy about something. And you want the person who's listening to you to know. So, I just absolutely agree with you. I think that's wonderful advice.
T. A. Barron
That's part of why I envision someone you trust. But you're right. You need to be able to access your emotions, your doubts, your fears in that presentation as well as your exhilaration and your passion and your dreams. And here's one of the wonderful things about voice. It's not only the voice of the storyteller we're talking about. Every single character has a voice. And I would argue every place, if well-crafted, has a voice. So we need to listen, not only to the way we are telling the story to an imagined audience, we're also needing to hear the voices of our characters and places fully and convey all that.
Patti Gauch
The difference in voices, you may see it even more in the dialogue, like when they're talking to each other. You should be able to hear the difference in voice there. The other voice is the narrator. In a book like yours, sometimes the narrator has a very distinct voice. Right?
T. A. Barron
Well, in fact, remember the transition when I was working, working, working to get that book, one of The Merlin Saga, by the way, having no clue that it would become not just three books, not five books, but 13 books. But I was really struggling with telling this story in the third person as a narrator. It just wasn't coming through enough. And then in a conversation with you, I realized this needs to be told by the boy himself. This needs to be Merlin emerging in his own self and his voice. And then the trickiest part for me was to leave behind the voice of the elder Merlin, which I could hear really loud and clear. It was so easy to channel that language. That's why the opening paragraph of The Lost Years of Merlin, book 1, is the voice of the elder Merlin reflecting on it. And then I transition into the boy himself, and he's the one who tells his story all through those five books of the young Merlin adventures.
Patti Gauch
Isn't it wonderful, the choices that we have as writers? Just wonderful choices. Sometimes narrator talks to the reader like Katie DiCamillo and Desperaux, right? She all of a sudden just pulls up and starts talking to the reader.
T. A. Barron
Yeah.
Patti Gauch
She hasn't done that before, I don't think.
T. A. Barron
No.
Patti Gauch
Surely does it in that book. So you have these wonderful choices, but you come to know your character, your narrator. What you don't want, you don't want to write a composition as if it were voice. What I sometimes say is, you are reporting. You think you're a newspaper reporter, and you're reporting that it's not the same as telling a story with voice.
T. A. Barron
Brilliant. That's brilliant. I try, in getting to know characters, Patti, I start where it's easiest for me, which is in my left-brain, right-hand, description, rational description. Who are these people? What do they look like? What do they dress like? What are their customary mannerisms? What's their place in their society? Where did they grow up? Get a visual image of them very clearly and then go deeper than that and go deeper than that, and go deeper than that, and deeper than that, and find out, what are they afraid of? What do they dream of? What are their highest hopes and their deepest fears? And then ultimately, at the very end in this ongoing conversation, because that's how it feels, I ask a character, okay, now what is your deepest, deepest secret? And when I hear that question answered, almost always it's something I never thought of. But the character is speaking to me, then, with an authenticity and a voice. And that really informs the way I'll tell the story of that character.
Patti Gauch
You know, I think you're willing to walk with your characters. I was thinking as you spoke, some of the characters that I'm so fond of. And I've always liked Rhia. And I've always liked Halia. They're such magical characters. Maybe it's because they're both female. I'm particularly related to them, although I love the young men, so it's not that. And I love… Bumblebee? No, I'm not saying that right…
T. A. Barron
Bumblewee, the jester who can't get anything funny.
Patti Gauch
No, he's so pessimistic. Everything that comes out of his mouth is pessimistic.
T. A. Barron
Which in the end actually makes him funnier.
Patti Gauch
Absolutely. There is wit and humor in your books, and that is a major part of your books. And I absolutely adore when you let go to that.
T. A. Barron
I've had the great advantage of having five bright kids who are full of pixie-ish sense of humor and silliness and imagination. So there is plenty of humor around, but let's talk about that for a moment. Patti, humor has a role beyond just making someone laugh, right?
Patti Gauch
Take that a little further, yes.
T. A. Barron
Well, so, could you speak about that, Patti, because I know you've thought a lot about the role of humor and jesters, for example. What are you thinking about with the deeper side of humor?
Patti Gauch
Let me take one of them just for now. You know, I love when the stones talk to each other.
T. A. Barron
Yes. That's in The Ancient One.
Patti Gauch
Yeah. Which I just absolutely adore. It's about a page and a half long. It's two stones kind of second-guessing each other, and it's an absolute delight. However, there are occasions when all the way through literature, the so-called –you're calling it a jester, I might call it the fool. So that this character who is foppish and who is bumbling and who maybe misspeaks, and you look at him and you say, you might say, "What a fool." But we know very well that the fool often is the one who is the speaker of truth. And so it's a very, very handy character. So not only are you being entertained by somebody like Bumblewee, but you also know – be careful, listen to him, because he may not be the fool. And of course, one of the early fools that all of us think of is Lear's fool. He was a wonderful fool. He steals the play every time it's produced because he's so funny and he is so true. Yeah.
T. A. Barron
Shakespeare absolutely knew how to use that tool.
Patti Gauch
Yeah. And you did, too. You have humor all the way through every book. It's part of the aura. It's part of the makeup of your book. That's right.
[Music Plays]
T. A. Barron
Patti, let's change subjects a little bit to the subject of magic. And not just magic in fantasy. How do you see magic in stories and what is its role? What does it illicit if it's done well?
Patti Gauch
It's funny because as an editor of fantasy and as an editor of magic, in a way, what I want for it to be is true. And I'm sure that you've read the essay Tree and Leaf by Tolkien.
T. A. Barron
Yes.
Patti Gauch
And what he says, and I've looked at it recently, but what he says is, to understand the world of magic, to portray it, you will go there by way of the Primary World. So if, for example, you think of the first scene in The Hobbit when Gandalf comes to visit the hobbit. And he comes in, and if you look at just that page you'll see that Gandalf, his smoke is spiraling. He hangs his raincoat up in the hallway. He sits down and he's going to have a cup of something. And everything about it has the detail of a fine Russian story. The detail. The detail. Why? Because Tolkien wants you to believe it's true.
T. A. Barron
Right.
Patti Gauch
So the access is the Primary World and the detail of the Primary World.
T. A. Barron
That's why the hobbit holes are so comfortable.
Patti Gauch
Absolutely.
T. A. Barron
And you feel that comfort, that coziness.
Patti Gauch
Yes. Yeah. Yes. Imagine if those hobbits were just dreary, old, little, dirty rodents.
T. A. Barron
Wouldn't work.
Patti Gauch
That's not going to make it.
T. A. Barron
No.
Patti Gauch
No. It's not gonna make it. No. What are you doing to breathe life into your character? And I think that's where magic can happen, is if it feels authentic. And so there's a big stretch to that. It can go all the way from Arthurian magic – and I do believe that this applies to Arthurian magic – all the way from there to a more contemporary magic, maybe even something like Charlotte's Web. That is a fantasy. What makes it a fantasy? It's the humanity of it. Right? It's the authenticity of it, of the, in a sense, Primary World, primary emotions. Yeah. Does that answer?
T. A. Barron
It does. And there are variations on this theme, right? With magical realism, for example.
Patti Gauch
Look at that. Look how that works. There's a wonderful line from Marquez's A Hundred Years of Solitude. And maybe you remember when the aunt is out in the –she's kind of a witch. She's kind of a disreputable aunt, or certainly a grouchy aunt, and everybody's a little bit fed up with her. But in any event, one day she's out in the backyard and I think she's hanging up clothes, and, all of a sudden, a wind comes up the wall and it simply blows her away.
T. A. Barron
Yeah.
Patti Gauch
All of a sudden, you've got this aunt flying through the air. I think she's still holding on to the clothesline. And that's often used as one of the major example of magic realism. There's no separation between the reality of the moment and the magic of the moment. But again, do you see how Primary World that is?
T. A. Barron
Yes.
Patti Gauch
It's laundry. It's a laundry rope. It's Mondays when you do your washing.
T. A. Barron
Right. A Wrinkle in Time starts not on some other planet with the three witches. It starts in the kitchen making peanut butter and jelly sandwiches.
Patti Gauch
Yes.
T. A. Barron
So it also is important in remembering this is how we deliver big ideas. We can set up the conditions, but we can't directly say the big idea, because then it's going to sound like a lecture. You want the reader to discover the idea. So, if your point is that all of us have magic down inside ourselves.
One way to convey that very big idea is to have a boy wash ashore without any memory or knowledge of who he is or where he came from. No memory at all. He doesn't even know his own name. And to discover that not only does he have inside himself qualities like courage and loyalty and hope and the rest, he also has something truly magical that if he takes care of it, can grow and swell and ultimately help him to make the world a different and better place. That's how the metaphor gets across. It's by living with this lad as he survives each day and each adventure.
Patti Gauch
Yeah. You know, Tom, and I know you know this, but when an author takes a diminutive character, for example, this character, of course we know this is young Merlin. I think what we're really saying when we write these books is, you are eight, you are ten, you are twelve, you can make a difference. You're not as tall as your – Anthony, your cousin, or your brother, who is 19 or has graduated from college. You're not as tall. No. No. You are important. You can make a difference. And I think, I always felt that was one of your major ideas. You are small, but you can make a difference. That everyone makes a difference, and you can also. So, it is Merlin washing up on the shore, but in a way, it's your reader washing up on the shore and deciding who he or she is going to be.
T. A. Barron
That's right. And I don't know about you, but I've certainly felt washed ashore in my life at times, and I think most people do. And every child, no matter how small they are, but also, no matter what their circumstances, how many obstacles there are in front of them, how many disadvantages they have, all children have a magic down inside if they can only have the opportunity to discover that and then allow it to grow. And that really is the idea, the metaphor of Merlin really is that idea.
Patti Gauch
Yeah. What is wonderful are the people who help it to be given to children. So it's the author who believes in it, who has the passion to say it once again in a new way. It's also the editor and the publisher, but it's also the librarian who puts the book in the hands of a child.
T. A. Barron
Yes.
Patti Gauch
Because not every child has parents who will put the idea in their hands. And so this outreach is incredibly important. Do you remember Gary Paulsen?
T. A. Barron
Oh, sure, the Hatchet.
Patti Gauch
And you may have heard his story. Just to live was a problem for Gary Paulsen when he was a young boy. And one day, and it was wintertime, and he was outside in his village. And there were bright windows, and it was a library. And there was a librarian in the window who beckoned him in because it was so cold. And he came into the library that day and it was the beginning of a love affair with libraries, and books, and in the end, writing. So, yeah, we're part of a big thing, a big idea.
T. A. Barron
It's true. And you quickly learn, if you hang out with children, that children may be small, but they are a big person inside a small package. You can even feel that with an infant in your arms. This is a big person just beginning to sprout.
I have to say that I've come to realize that every book I've ever written has a few key values. And one of them is this: the idea that every person matters and every person can make a difference. You see that in Kate, in The Ancient One and in Heartlight. You see that in all of the Merlin books. You see that across The Great Tree of Avalon. And you see it in Anna in Tree Girl. You see it in Promi and Atlanta, in the Atlantis trilogy. It's everywhere. Little Basil, who has to hide under the leaf of an herb and takes on the aroma of Basil because of that, ultimately becomes a great and powerful dragon. But he has to grow in his own heart and his own wisdom to get there. Same is true with Shim. This is all about people of every description, even the most unlikely, making their way in life and discovering their power, their magic.
Patti Gauch
Yeah, I agree with you.
T. A. Barron
Nothing's more beautiful than that.
Patti Gauch
It's something for them to learn and it's something for all the people that are around a child to know that they have the responsibility to share.
T. A. Barron
That's right.
Patti Gauch
You know what you can be? What would you like to be? Dream big. It's okay. Every human being needs a cheerleader, needs a cheering team.
T. A. Barron
That's the core of a good parent or a good teacher, I think, is listening to each child and hearing who is this person? And then helping encourage that person, believing in that person and certainly not squashing that person, encouraging that person in every possible way.
Patti Gauch
Yeah, that's right. So this, of course, is, I hate to use the word mission because I sort of don't believe in didacticism. But if this living story is living, if it's authentic, it will convey – the reader will understand what the journey is. And I think that book after book, you had those journeys.
T. A. Barron
We had those journeys, Patti Gauch. Before we wrap up here, may I ask you one more question? And I have enjoyed so much, every moment of this conversation, Patti, but one last question. With all that you have seen over your years as a writer and an editor. As a storyteller in the truest, deepest sense, what advice would you have for an aspiring writer? Someone who feels that possibly there's a story inside them that they would like to share. What advice would you give that person as an editor?
Patti Gauch
As an editor, the first thing I looked at was voice. I picked the first page up and I looked at voice. And if you, the writer, understand voice. And if you follow voice. And that's kind of a unique idea, I think you can follow voice. You may have an idea that's kind of just growing, but if you put voice on it, you decide what the character is and you begin to let that character talk and follow it, it could follow you to story.
I think at a certain point, there's an image that seemed to help people that I work with. I have these workshops, and so I'm still working with people growing. And it's the idea of a clothesline. The shirts and the pants and the things that you're hanging out are your chapters. So that that clothesline is your narrative line. What is your narrative line? Do you know?
And then the other part to that is… that's kind of the outside action. But there's almost a parallel clothesline, that's interaction, and that's Aristotle. And that's the idea of a great human action. That is the inside stuff. What's driving this character is going to go. So that's the lower line. So that outer line and the inner line are working together to get to the climax we've been talking about or the middle we've been talking about. You're still looking for authenticity, so you're looking for idea and authenticity. And I guess I'm moving around like this because I think first you get this and then you get this, and you keep at it until it begins to grow into something that's a real story. And you're courageous about what the story might be.
T. A. Barron
I would only add that you are disciplined enough to stay with it and help it grow. It's just like growing something in your garden. It doesn't happen automatically, often. Sometimes, blessedly, it does if a seed blows in and plants itself. But what you normally have to do is till that soil and make sure there's plenty of sunlight and water and help it grow and give it support when it needs it. And that's the process that takes discipline. And I think discipline comes out of love, right? If you love your story, if you really, really care about it and you just have to share it with the world, then you have the strength of discipline to do it.
Patti Gauch
You know what? Don't write it if you don't love it, don't write it. Do something else. Because if you don't love it, you're going to get to chapter three, and now it's gonna be a drudgery instead of a joy. So what you choose is very important. And if you're lucky, you choose this thing and you think it might be a story, and then you kind of sit down and you envision it. Where could it go? How could it go? Right? So you begin to take a look at it as a whole. It begins to grow. Yeah.
T. A. Barron
Beautiful. Well, Patricia Lee Gauch, this is why you have surrounded yourself with enduring stories, ones you've written, ones you've edited. I know from experience you really understand the full depths of that well of story. And what a joy to talk with you, my friend.
Patti Gauch
And a joy to talk with you, Tom Barron. Definitely. Absolutely.
T. A. Barron
As Shim would say. "Certainly. Definitely. Absolutely."
Patti Gauch
Absolutely.
T. A. Barron
Thank you so much, Patti.
Patti Gauch
My pleasure, Tom.
T. A. Barron
To everyone out there, let me just say thank you so much for joining us for Magic & Mountains. We'll see you next week. And in the meantime, may you have magical days.
Carolyn Hunter
We hope you enjoyed this week's episode of Magic & Mountains: The T. A. Barron Podcast. Don't forget to subscribe, leave a five-star review, and share this podcast with your family and friends. For more information and to find all of T. A.'s books, visit tabarron.com. Have a magical week.