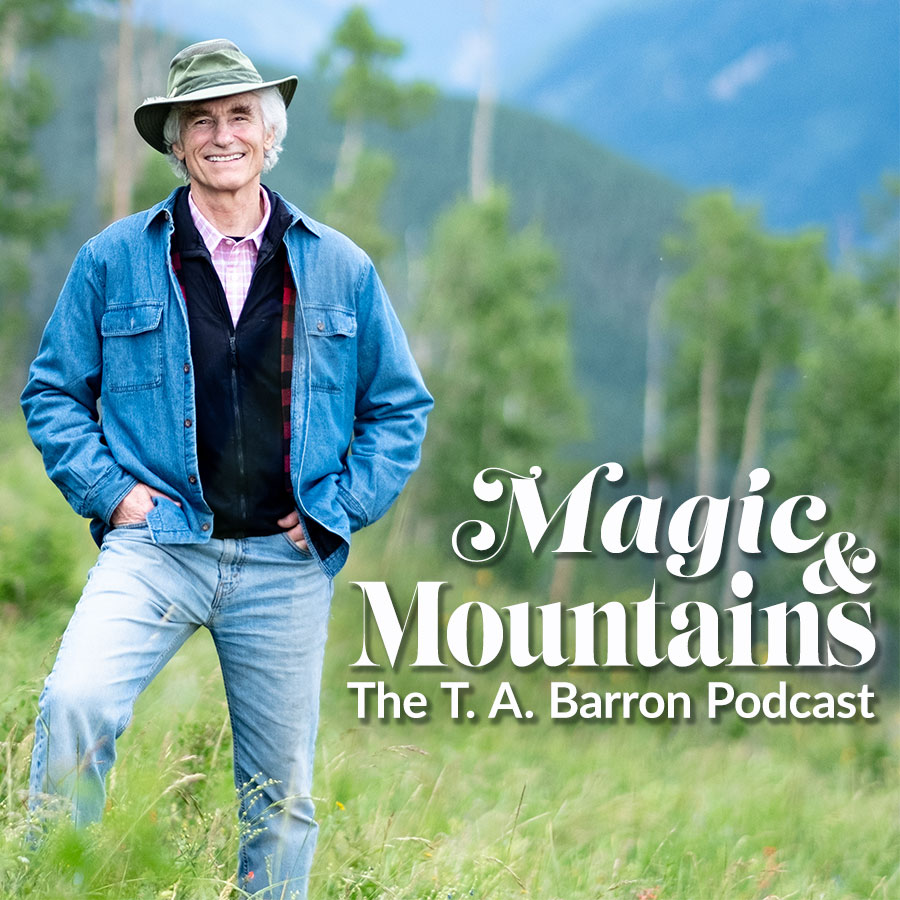 The Voice of Story
with Audiobook Narrators John Lee and Carolyn Hunter
Season 2, Episode 7
How do you bring a character's voice to life in a way that is authentic? How does one get started in audio book narration?
In this episode, we learn about the art of voice-acting and audio-book narration from two very different voices in the industry.
John Lee, the brilliant narrator of the audio book version of T. A. Barron's GIANT: The Unlikely Origins of Shim, as well as hundreds of other books, shares with us how he put his thumb in the air and hitch-hiked around the universe before becoming a voice actor. Carolyn Hunter, our very own co-host, shares with us her unique journey as a voice artist.
We discover how John landed on the sparkling voice of Shim and he even treats us to a live performance.
T. A., Carolyn, and John will make you want to go home and read out loud to yourself, your kids, your loved ones. Find what voices just appear!
We hope you tune in. As Shim would say… Certainly, definitely, absolutely!
Check out more books narrated by John Lee and Carolyn Hunter.
Magic & Mountains is hosted by T. A. Barron, beloved author of 32 books and counting. Carolyn Hunter is co-host.
Magic & Mountains Theme Song by Julian Peterson.
John Lee
John Lee has read hundreds of audio books of every conceivable genre. He is the recipient of many Audiophile Magazine Golden Earphone Awards and was one of their Golden Voices of 2010. He received the Audie Award for Male Solo Narration for The Count of Monte Cristo and has narrated two series of Ken Follett's monumental historical novels as well as several of Turkish Nobel Laureate Orhan Pahmuk's celebrated works.
Note: Magic & Mountains: The T. A. Barron Podcast is produced for the ear and designed to be heard. If you are able, we strongly encourage you to listen to the audio, which includes emotion and emphasis that's not on the page. Transcripts are generated using a combination of speech recognition software and human transcribers, and may contain errors. Please check the corresponding audio before quoting in print.
The Voice of Story with Audiobook Narrators John Lee and Carolyn Hunter
T. A. Barron
Welcome, everyone. This is
Magic & Mountains
.
Carolyn Hunter
The T. A. Barron Podcast.
John Lee
"Smallsy!" he wailed, his voice sounding much higher than he remembered. "I am smallsy and shrunkelled!"
He stood, looking everywhere for something – anything – that seemed normal. But none of his surroundings looked even remotely normal.
He stood only as high as the ankle of the giant who now towered over him. And he had absolutely no idea who she was. For he realized, in a flash, that he'd forgotten everything he ever knew.
T. A. Barron
We have two stellar voice artists on our podcast today. First is John Lee. John is a British actor, voice artist, playwright, and producer, best known for his critically highly acclaimed work in audiobook narration. His rich vocal tone, shrewd character work, and wonderfully expressive variety have earned him multiple audio and earphone awards. And in 2009, Audiophile magazine named him A Golden Voice, which seems completely appropriate for me. It is their highest accolade for narrators. And beyond John's voice work, he has been a successful film producer, screenwriter, playwright, and John Lee has narrated hundreds, literally hundreds, of audiobooks that span an impressive breadth of styles. So you'll hear his voice on everything from literary classics like Great Expectations and The Count of Monte Cristo, to science fantasy novels like Cloud Atlas, to works of nonfiction like Musicophilia, as well as children's books. But most notable of all, the top of his career, John has narrated my newest book, Giant, the prequel to The Merlin Saga. Welcome to the show, John.
John Lee
Hello. Hello. That was a lovely introduction.
T. A. Barron
Well, it's all true. And now let me introduce our second voice artist, Carolyn Hunter. Now, her voice will be familiar to all listeners of this podcast, as she is the co-host. I am thrilled to welcome my fellow Rocky Mountain artist, Carolyn, who, in addition to her role on this podcast, is a professional songwriter, poet, and vocalist of considerable success. Equal parts creative force, bookworm, and recording artist, Carolyn has narrated and produced over a dozen audiobooks and has been highly acclaimed for her signature warm and authentic vocal style. The word angelic has been tossed around in reviews. In sum, Carolyn is a true creative spirit with a deep devotion to storytelling, and we are blessed to have the opportunity to work together on this podcast. So welcome, John. Welcome, Carolyn.
Carolyn Hunter
Thank you. So happy to be here.
T. A. Barron
Well, let's begin at beginnings. And John, I'd like to start with you to talk a bit about your journey to become the Golden Voice that you are. You grew up in England, I understand, and your father was a carpenter, and your family included blacksmiths and bricklayers and plumbers. You even had a prior career picking fruit. Now, please tell us about your journey. What has led you to do what you do now with such proficiency?
John Lee
My father was actually a blacksmith before he became a carpenter. But if you moved from Ireland, which is where both my parents grew up rural, very rural County Kilkenny. If you moved to England in the 40s and 50s, 1940s and 50s, not much call for blacksmiths in the original industrial city, which is Birmingham, which is where the steam engine was developed as a practical object. So my dad basically taught himself how to be… in this country, we call it form work. He built the boxes, basically, to which you pour concrete. And my mother did many things. She ended up – her final job was working in a kitchen at a school. So, yeah, my parents were immigrants to England. By the time I got to the end of my college days, I kind of wanted to travel the world, so I did. I sort of put my thumb in the air and hitchhiked around the universe.
T. A. Barron
Where did you go?
John Lee
I lived in Amsterdam for a while. I lived working – ha – the night shift at a razor blade factory. Yes. I've had some delightful jobs.
T. A. Barron
So you could say it was cutting edge work.
John Lee
Very cutting edge, yeah, razor blade factory. And then I hitchhiked down to France and I picked some grapes and I went to the Middle East and I worked on a – I think most people would know what a kibbutz is in Israel, but a moshav is a variation on kibbutz. It's more… the land is owned privately. I worked picking fruit, working in a plant nursery in Israel, went to Egypt, went around the world, finally ended up here because I married a woman from Seattle. Yeah. And I sort of accidentally became an actor by starting out as an administrator in theater. Actually, one of the jobs I had in Seattle, for 40 hours a week, I changed light bulbs.
T. A. Barron
Wow.
John Lee
And I immediately left to work in the theater. So I left behind a lucrative union job, changing light bulbs. I was an administrator in theater, and because I have a facility for accents, being backstage, counting tickets, whatever I was doing as a house manager, I became friends with directors and such like backstage. And one of them asked me to teach a cast of an English play, the English accents. The only way they could pay me was to pay me as the understudy, even though I hadn't acted since high school. So I said yes. And by pure chance, fate, one of the actors had to go into the hospital. So I went on for a week.
And then because of that week of understudy, I got cast in a play at the University of Washington, and I got a play at the Seattle Rep. I'm the guy who wanted to be a waiter but kept getting acting jobs. That was kind of what happened.
So I started writing plays, and then I moved to LA. Not to be in movies. I moved because of the person I was married to. So when I fell into audiobooks, I got recommended to a man named Dan Musselman, who ran the studios of what was then called Books on TV. I was recommended to him, and Dan auditioned me and gave me my first book. And that was the beginning of, at first, a halting career in audiobooks.
I think one of the things… somebody asked me the other day, a question about the early days of these were not early, early days. This was the late nineties. The early days – I've worked with people who recorded on reel to reel.
T. A. Barron
Wow.
Carolyn Hunter
Wow.
John Lee
But I started audiobooks when they were really thinking, should we go to CDs instead of cassettes? That's how long ago I started. And now audiobooks are such a big business and so popular. When I did it, it was really kind of a cottage industry. It was a very small business. There were very few actors who actually knew that there were such things as audiobooks, I think. And there were very few wanted to do it because it turns out it's really quite hard work. And doing commercial voiceover, or as I've done in the past, video games and animation is a lot physically easier and actually, potentially more lucrative. I mean, don't get me wrong, audiobooks is perfectly well compensated.
So I fell into a world where, oh, look, I'm reading books. I kind of like reading books, and I'm being paid for it. And the people I'm working with are extremely nice, and they're almost never late with their checks. Back – this is long enough ago that people wrote checks, so you don't get too many of those anymore.
T. A. Barron
This is totally incredible, John. Seriously. To go from picking fruit, changing light bulbs, to be the audio guru that you are now, seriously. I write heroic journeys of fantasy characters who rise beyond incredible, bizarre circumstances to find their way. And I think the story of John Lee would fit perfectly on that bookshelf.
John Lee
Yes. Some of the things I've had to do for a penny. Goodness.
T. A. Barron
Well, that's fabulous. What a trail you have walked. Let me turn to Carolyn and ask you, Carolyn, the same question. What is the journey for you that has brought you to do so much work in the audio realm?
Carolyn Hunter
Yeah, it's so interesting hearing John talk about his journey. I feel like I have so many aspects of what you've been through, but in kind of a different order. I grew up performing at a dinner theater in Virginia, in Northern Virginia for about ten years, and then I went all the way across the country to study musical theater at UCLA. I wanted to be on Broadway. That was my dream at the time. But the city life was hard for me.
I also have Irish roots. So about my sophomore year of college, I went to Ireland and did a little bit of, let's say, reflecting on my career decisions and thinking, why am I having such a hard time in the city? Why am I not getting cast? And so I decided to write my own stories. And I picked up guitar and I wanted to be able to cast myself in whatever role I wanted to. So I started writing songs.
And my mom at the time was volunteering at the library for the blind to record audiobooks. And she said, you know, my friend in there, he's actually doing this for a living and he's making good money. And I was performing in bands and always looking for ways to supplement my income as a musician. And my partner at the time was an audio engineer. So we linked up and started recording audiobooks in our closets and little four-by-four studios, just like you're talking about little ISO booths and anything we could stuff pillows in. And I kept getting cast in audiobook features. So that's kind of how I got into it. And, yeah, it was fun reading books and getting paid to do it.
John Lee
Oh, yes.
T. A. Barron
What a journey both of you have had in this realm. And the best part is this is real. This is far more bizarre than anything that happens in fantasy novels.
[Music Plays]
T. A. Barron
I have a question for both of you. Let's start with you, John. As a writer, I feel that every detail about a character is important. But the most important, by far, is the character's voice. Does it sound authentic and true to their whole person? Does it reveal their history, their complexities, and their individuality? You, John, have portrayed an amazing variety of characters, and you somehow, magically, give each of them a unique power that feels true to that character. How do you do that? How do you bring a character's voice to life in a way that is authentic?
John Lee
Well, you end up with this lovely building, but first of all, you have to hire my father to pour the concrete. And the pouring of the concrete is, how old are they? Gender? Where are they from? Accent is important, though possibly less important than many people think. I'm just good at doing accents. That's just the way my brain is wired.
Then, of course, within the context of a book, we'll say you'll have two people who are from a certain part of London, a certain part of Los Angeles, whatever it is, and somehow you have to differentiate them, whether it's by gender, age, tone, pitch. You simply have to find a way to differentiate if they have similar voices. And it's usually a matter of pitch.
Most of the work is actually very practical. Now and again, you'll hit upon a voice that you love, that you love doing. There are certain accents that I love doing, and I'm grateful when I end up with a person who speaks a certain way.
T. A. Barron
Can you give us an example of that?
John Lee
I come from Birmingham, and to the west of Birmingham is the original industrialized place in the world. It's called the Black Country, possibly because coal was very close to the surface. The problem being that if you do a really deep black country accent. It is completely incomprehensible. So if you get a Black Country person, I talk like that. You can't understand a word I say. They actually have a whole way of talking that's got – they've got a different form of grammar in their language. But I love doing the Black Country accent because nobody can understand a word I say. That's one of my favorites. I like to build with accents.
Pace is always – the pace of the way somebody talks. Interesting, English people speak faster than Americans. Naturally speak faster. That's one way of distinguishing if you have an American character and an English Character – speed of delivery.
Also, if a book is well written and as we know, not all books are well written, but if a book is well written, the way in which the dialogue is written is a great aid because it is so much easier to speak. It's hard work speaking bad dialogue, and well-written dialogue has within it contrast. A good writer writes two people in a conversation so that their voices are distinct. It's simply harder work. You're compensating for what the writer didn't do, and the end of that day, you're a lot more tired than at the end of a John le Carré day.
T. A. Barron
Sure. It sounds like you triangulate in a way between getting a true sense of who this character is from the story and your need to differentiate that character's voice from other voices. And then, of course, the overall emotions and ideas that you want to convey through that story. And somehow in there you land on a voice.
John Lee
Yes. I think the hard work of audiobooks, besides the simply sitting there for hours and talking, the hard work is that you are trying to do a lot of things at one time.
T. A. Barron
I can see. And your goal, of course, is to make these characters rise up and feel alive for listeners or readers. Carolyn, how do you make your characters come to life?
Carolyn Hunter
I think… I try to be myself as much as possible because that will be very authentic from the get-go. And then I kind of think of it as my cast of characters in the book is like a group of friends. You have the sassy friend, you have the shy friend your friend group. You have the very smart and intellectual slow speaking friend. And I would sort out my cast in front of me in the book and put a real-life person that I could imagine onto that group of characters because I'm so much better at imitating one of my friends, even if it's just how they speak, it would help me simplify a little bit. Go – Okay. Erin is Jessica. Tommy is Jake. So I think that's how I made them come alive.
T. A. Barron
That's a great way to go. Now, both of you have created your own stories. John, you've written plays and scripts. And Carolyn, you've written lots of songs as well as poetry that's magnificent. Let's start with you, Carolyn. What is different about writing something of your own and reading a work by someone else?
Carolyn Hunter
When I'm writing, it's kind of like this outpouring of self and ideas and experiences and memories. And when I'm reading someone's book and bringing the story to life, it feels just a little bit lighter for me. It feels like I'm assisting. Someone has done this hard work of completing this beautiful story, and as a voice actor, I get to push it along. And I have other hard things, like sitting in a dark room for 40 hours or speaking really slow and concentrating on not messing up the words so I don't have to go back and edit. It's harder for me, writing from a heart sense and an intellectual sense and an energetic emotional sense. And when I'm narrating, it's like a physical, focused, concentration work that is more challenging for me.
T. A. Barron
Fascinating. John, how would you address that question?
John Lee
I'm a huge country music fan. One of the many reasons I like country music is the storytelling is fantastic in country songs. The great writers, Dolly Parton, for instance, Jolene, she tells this story of a marriage in what is it? Three and a half minutes? Whatever it is, you just like, oh, my goodness. So in a way, when you read a novel or the plays of Samuel Beckett, you read a line of Beckett and you just go, well, there's nothing else left to say, really, is there? With Dolly Parton it's like, well, that's all you need to say about marriage and love.
So sometimes when I'm writing, I find myself thinking, if only I could write that succinctly. I think, as writers, and also, when you read… when you're narrating books, good or bad, sometimes you think, you know, that could have been a lot shorter. The great thing about songs is they can be very imagistic. They don't have to be. I mean, Jolene, for instance, is very concrete, begging, please leave my husband alone. But there's a line, "Judas Iscariot carrying John Wilkes Booth." There's just something so enormously apocalyptic about that, and it's a single line.
So when I'm writing, I'm hoping that I can write a line that sums up what I'm trying to say. Yeah, I suppose writing I have a horrible tendency to want to impress people with my writing rather than tell a story. And eventually you get rid of that and you tell the story and people go, "John, it's a funny line, but get rid of it."
T. A. Barron
So, John, let me ask you, what do you think makes a great story?
John Lee
Well, that's a tough one.
T. A. Barron
I've been throwing you these easy puffball questions.
John Lee
There's some films you watch where you go – nothing happened in that film. It was fantastic because the story was good. But there isn't necessarily that much plot.
T. A. Barron
That's right.
John Lee
The best things reflect upon their times, I imagine. And then you have the great scripts, which are fabulously plotted and incredible stories like Casablanca. I think great story, good theater, for instance, what's at stake? And the stakes don't have to be the faiths of nations. The stakes can be, I don't have enough money to buy formula for my baby, which is… it's an equally important, objective, state of peril as whether you're going to get your visa to get out of North Africa, for that person. The story is really about the height of the stakes and making sure great writers are able to tell me, to tell you that this is important and must be achieved.
T. A. Barron
It's about story, and it's about our believing in our hearts the truth of that story.
[Music Plays]
T. A. Barron
Stories have so much power to reach people of all descriptions, no matter what accent they speak, no matter where they spend their day, no matter what stresses and struggles they are dealing with, no matter what their religion or culture or geographic place on this planet or even time. I just feel like we are all connected through stories. There's no barrier that keeps people from feeling a common human chord if the story is told well enough. So this kind of empathy really is as close to magic as we have in this world.
John Lee
Indeed. Do you ever get… when you're writing, Tom, do you ever go back and go, "I don't remember writing that, it's quite good." I have a feeling all the time when I go back to my plays, I go, that's quite a good line. I don't remember actually coming up with that.
T. A. Barron
Yeah, it happens occasionally. It more often happens… Oh! I wish I could have condensed that more. Or, I wish there were a little more lilt in that phrase. Or, why did I use the same adjective that I used two sentences before? That kind of editorial comment happens more frequently. But yes, and sometimes, here's the greater miracle, John. Every once in a while, I will have pages that just flow through me. They just lock in, and I cannot write fast enough. And those pages, almost always when that happens, they stand the test of time. I look at some of the scenes or chapters that I wrote 20 years ago and I feel, yeah, that's it. That's exactly the feeling and the emotions and the idea that I wanted to convey. It doesn't happen nearly often enough, though.
John Lee
And then there's the days when you like, oh, I've written a whole line. I should now vacuum the house.
T. A. Barron
Exactly. Well, and the thing is, you have to put in the work to do those days and to stay in the saddle while there are a dozen things you'd rather be doing. You have to put in those days in order to have the one miraculous moment where a line, or maybe even a paragraph, sometimes a page or more, just flows.
John Lee
It's perspiration, not inspiration, as they say.
T. A. Barron
John, I have to turn to that book that you read last year called Giant, which you remember.
John Lee
I do remember it well. I really enjoyed that one. We don't enjoy them all.
T. A. Barron
Fortunately, many people have also enjoyed that book. I'm thrilled that you did as well. John, was there a particular voice that you enjoyed most in reading that?
John Lee
Shim. What he has is a southwestern English voice. I have no idea why. As soon as I read the first line he spoke… it's that thing of, you don't know why, it just is.
T. A. Barron
Right. It felt right.
John Lee
For some reason I know these people talked like this. Well, I mean, I'm doing a bit strong now because people won't understand it. But I just knew Shim talked like this. I have no idea why I knew that.
T. A. Barron
But it lands. It lands with everybody.
John Lee
I think the only alternative for Shim would have been a northern accent which is like, you talk like this. Someone like Ian McKellen, actually, is from the north of England. But there was just for some reason, as soon as he started talking like that, I just knew. Some things are just unknowable.
T. A. Barron
Yes. It's purely instinctive.
John Lee
It's just instinctive. And it took me a second to find it. I got lucky. It helps that the book was a joy. I think also when you're working for an American audience… well, it's something true for an English or a British audience too – they're very used to London voices. You know, people who talk like that. But I think when people associate – London is obviously one of the largest cities in the world and sophisticated and all those things and hustling and bustling and this felt very rural. They're living out in the woods, so it's going to be country some way or the other. And even if an American audience doesn't understand that someone talking like this doesn't come from London they haven't heard that very often, so they know it isn't that. In a way, what you're doing with voices sometimes is letting people know that it's not that. You may not know what this is, but you know it's not that.
Carolyn Hunter
Yes
T. A. Barron
Marvelous. Marvelous. This sensitivity to paying close attention to where your character is from and how to indicate, that there's no more powerful way to do that than voice. And at the same time, of course, there are other ways too. There are the ways the person dresses, and if you're walking on stage or in a movie, how they move.
And I recall when I was lucky enough to be able to visit the set for the filming of The Hobbit in Wellington, New Zealand. When Peter Jackson was getting the characters ready to really own their parts, whether they were dwarves or elves or dwarves from this part of Middle Earth or that part of the Shire or wherever they happen to come from. Every single one of them had to have a distinctive accent. Not only that, they had a person who was called a movement anthropologist on set all the time to try and coach actors about how that family of dwarves would actually express discontent or outrage or joy. Which was different from how a high elf or a wood elf or a different dwarf or someone from the Shire would actually make that same emotion plain.
So all of these things really are important. That's part of why The Lord of the Rings movies work, is that authenticity really comes across. And that's also part of why your characters in your books work. They feel real.
John Lee
Good.
T. A. Barron
Well, John, would you give us the great service of reading an excerpt from that book Giant?
John Lee
I'm putting on my magic glasses which turn me into a narrator. But you'll be glad to know that every Sunday when I was at college, I used to play soccer every Sunday around the corner from Tolkien's house, would you believe?
T. A. Barron
Is that right? There was something in the air there.
John Lee
All right. This is an excerpt from Giant, the prequel to The Merlin Saga by T. A Barron.
A flash of light exploded in the lair, so bright that for a moment, the great mother giant couldn't see. In the very same instant, her beloved son shrank down in size – so fast that she lost hold of him completely.
Shim, meanwhile, fell through her arms and slammed onto the floor. Dazed, he sat up. Though his head was spinning, he tried to focus. But everything around him looked terribly distorted. He shook his head, utterly disoriented.
Suddenly, in a flood of panic, he realized what had happened. His nose, his feet, and his hands were all still there – but they were much, much smaller, along with every other part of his body. Even his clothes had shrunken down in size.
"Smallsy!" he wailed, his voice sounding much higher than he remembered. "I am smallsy and shrunkelled!"
He stood, looking everywhere for something – anything – that seemed normal. But none of his surroundings looked even remotely normal.
He stood only as high as the ankle of the giant who now towered over him. And he had absolutely no idea who she was. For he realized, in a flash, that he'd forgotten everything he ever knew.
T. A. Barron
Oh, wonderful!
Carolyn Hunter
Incredible.
T. A. Barron
John, you just brought that scene absolutely to life. And may I say, it's every writer's dream to have a passage they wrote read with such power. And I'm so grateful to you. Thank you, John.
John Lee
Oh, well, thank you for the book. I'm always grateful that people write. And it's not really that I narrate and make my living doing that. It's that… one thing my mother did… poor, an immigrant from Ireland and England. When we were all five years old… I have three brothers. When we were five, we lived in a place in Birmingham called Spark Hill which is if you say the word Spark Hill even to people from Birmingham, they go … Ooo.
But there was a branch of the public library in Spark Hill, Spark Hill Library. And when we were five, and we were learning to read, she took us all at the age of five. Each time we turned five, down to the library, and she got us our library tickets. In those days, it was actual physical. You had one ticket for each book you took out, and we got out two or however many books they allowed a five-year-old to take out. And my mother, who left school at 14, 15, I don't know, because she had to go to work in Ireland, she knew. And I think for me, that's what I am most grateful for, is that there are books in the world, regardless of the fact that I make my living out of it. So to all the writers out there, thank you.
T. A. Barron
What a gift your mother gave us all by introducing you to wonderful stories. How about you, Carolyn?
Carolyn Hunter
Well, I just want to say it's a complete honor to be in this conversation with both of you, author of 32 and counting novels and narrator of over 100 books, few of which are my favorite, including T. A. Barron's books, of course, and One Hundred Years of Solitude and Sea of Tranquility I saw that you had just narrated.
John Lee
Okay.
Carolyn Hunter
So thank you so much for including me. I have a lot of aspirations to one day write a book and one day to have the expertise in what you do. So thanks for inspiring me to continue.
John Lee
This was a lovely conversation. Thank you.
T. A. Barron
John, would you have any words of wisdom for an aspiring audiobook narrator?
John Lee
You have to plug away, you know, and that can be very difficult. I mean, people have kids, they want to buy a house, and working at whatever job you can get, it pays the mortgage. It's hard to keep hacking.
T. A. Barron
Yes.
John Lee
Just hack. Clear the undergrowth.
T. A. Barron
Persevere.
John Lee
It's really the key to it, I suppose.
T. A. Barron
Well, thank you. You know what? I think our little friend who finds his way eventually to become a Giant, Shim, would agree with you. Persevering matters. John Lee, thank you so much.
John Lee
Thank you.
T. A. Barron
Carolyn Hunter, thank you so much.
Carolyn Hunter
Thank you. And thank you, John.
T. A. Barron
To everyone out there, let me just say thank you so much for joining us for Magic & Mountains. We'll see you next week. And in the meantime, may you have magical days.
Carolyn Hunter
We hope you enjoyed this week's episode of Magic & Mountains: The T. A. Barron Podcast. Don't forget to subscribe, leave a five-star review, and share this podcast with your family and friends. For more information and to find all of T. A.'s books, visit tabarron.com. Have a magical week.