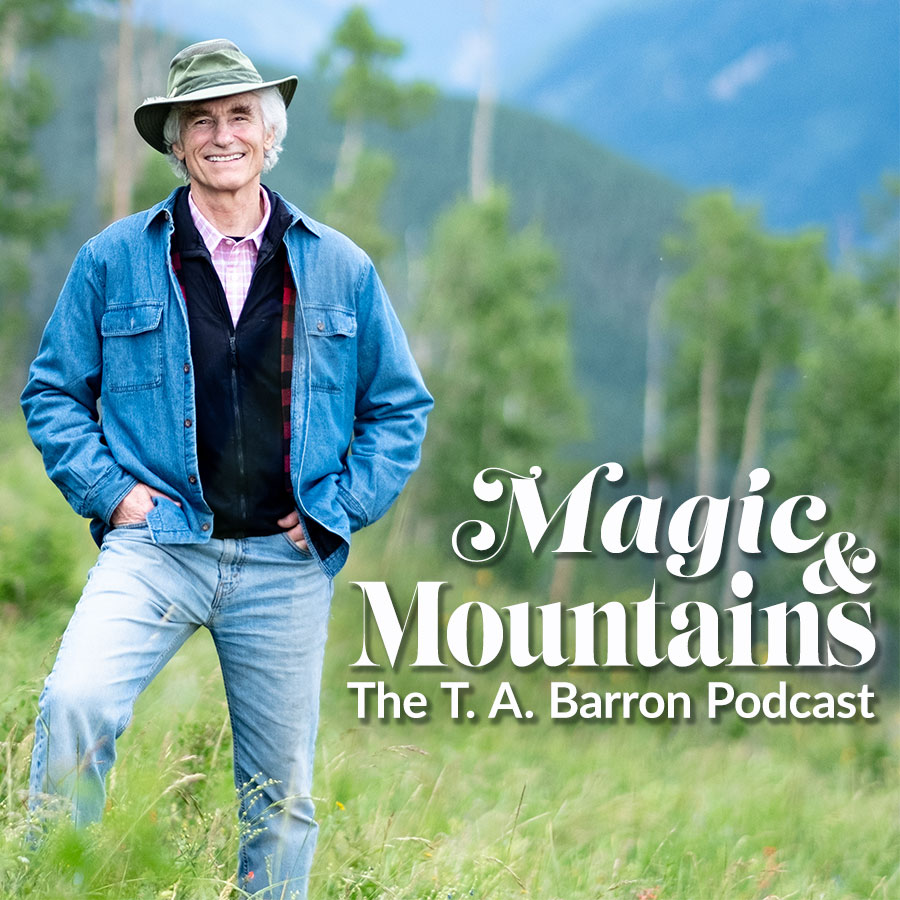 "The Next Great Adventure"
with Jane Goodall
Season 2, Episode 1
Join T. A. Barron in an intimate and soulful conversation with the bright light that is Dr. Jane Goodall. What is her deepest wish for the world? And what is her next great adventure?
T. A. and Dr. Jane, who is now almost 90 years old, consider our troubled world, the indomitable human spirit, and the importance of giving people a sense of their own individual power.
Hope is a remarkable thing, and Dr. Jane has made it her mission to give people just that – HOPE. She shares how to inspire young people, and who encouraged her at a young age to pursue her passion and purpose.
Tune in for an episode filled with inspiration and wisdom with one of the world's most uplifting and compassionate leaders.
Learn more about the Jane Goodall Institute.
Magic & Mountains is hosted by T. A. Barron, beloved author of 32 books and counting. Carolyn Hunter is co-host.
Magic & Mountains Theme Song by Julian Peterson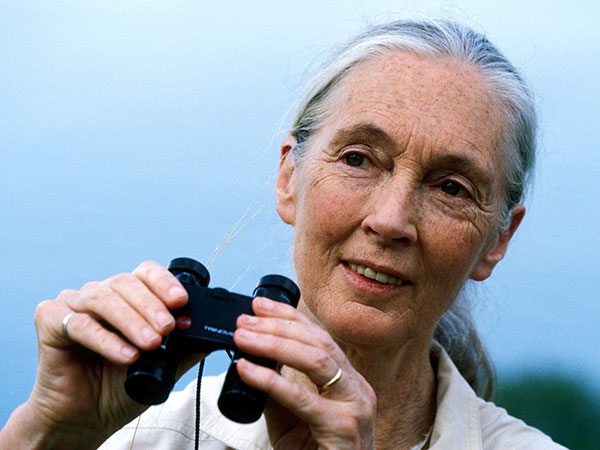 Dr. Jane Goodall
Dr. Jane Goodall, DBE, Founder of the Jane Goodall Institute (JGI) and UN Messenger of Peace, is a world-renowned ethologist and activist inspiring greater understanding and action on behalf of the natural world.
Dr. Goodall is known for groundbreaking studies of wild chimpanzees in Gombe Stream National Park, Tanzania, which forever changed our understanding of our relationship to the rest of the animal kingdom. This transformative research continues today as the longest running wild chimpanzee study in the world. Jane's work builds on scientific innovations, growing a lifetime of advocacy including trailblazing efforts through her international organization the Jane Goodall Institute which advances community-led conservation, animal welfare, science, and youth empowerment through JGI's Roots & Shoots program.
Today, Jane continues to connect with worldwide audiences, despite the challenges of the pandemic, through 'Virtual Jane' including remote lectures, recordings, and her podcast, the Jane Goodall Hopecast. In 2021, Jane was the recipient of the Templeton Prize, and her newest book, The Book of Hope: A Survival Guide for Trying Times, was published.
Jane is a global icon spreading hope and turning it into meaningful positive impact to create a better world for people, other animals, and the planet we share.
Note: Magic & Mountains: The T. A. Barron Podcast is produced for the ear and designed to be heard. If you are able, we strongly encourage you to listen to the audio, which includes emotion and emphasis that's not on the page. Transcripts are generated using a combination of speech recognition software and human transcribers, and may contain errors. Please check the corresponding audio before quoting in print.
"The Next Great Adventure" with Jane Goodall
T. A. Barron
Welcome, everyone. This is Magic & Mountains.
Carolyn Hunter
The T. A. Barron Podcast.
Jane Goodall
Hello, Tom.
T. A. Barron
Hello, Jane. So good to see you.
Jane Goodall
It's good to see you. How are you?
T. A. Barron
Doing well. Doing well in this crazy time.
Jane Goodall
Oh, it's a horrible time, Tom. It's a beastly time.
T. A. Barron
It is. But like you, I suspect, I try to center myself all the time about blessings that we have, and it helps.
Jane Goodall
Yep.
T. A. Barron
Jane, are you at home now?
Jane Goodall
Yes. I just got back from Tanzania.
T. A. Barron
So were you at Gombe?
Jane Goodall
I had four days at Gombe, four days in Kigoma, five days in Dar es Salaam, and three days in Arusha. Brrrr…
T. A. Barron
Wow.
Jane Goodall
But I was with my two oldest grandchildren all the way. That was nice.
T. A. Barron
How old are they?
Jane Goodall
Well, Merlin is 26 and Angel is 22.
T. A. Barron
I love it. And what magnificent names, Merlin and Angel.
Jane Goodall
Yeah. Well, their mother is Tanzanian, so those are very Tanzanian names.
T. A. Barron
Marvelous. Marvelous. I'd say very powerful names, too. Is that, behind you I see, is that your beloved mother? And also David Greybeard?
Jane Goodall
That's Mom. And that's David Greybeard. Well, there, should be Rusty, but you've taken his place.
T. A. Barron
Well, nobody can quite take their places, I think. Jane, the very first time I heard you, have I told you this? It was, I believe, somewhere in the mid-1970s where you gave a lecture at St. Catherine's College, Oxford University, and I had just arrived as a Rhodes scholar, and I saw Jane Goodall. I snuck into the back of the lecture hall, and I heard you speaking about your studies of the chimpanzees, and you were early in your life enough that you were still clearly finding your way and choosing the language and figuring it out. But what a powerful, shining example. Jane, you have made such a difference to the whole world and to my life personally, enormously, as you have with Currie and our children. I'm so grateful to have this time. So let me dive in.
T. A. Barron
Jane Goodall needs no introduction, but, hey, I can't resist. So Dr. Jane is that courageous, boldly original scientist you know about, whose observations changed our understanding of chimpanzees, primates, and humanity. She's also the founder of the Jane Goodall Institute, whose programs worldwide in community-based conservation are making an enormous difference in more than 60 countries. Jane is also a United Nations messenger of peace, which has to be one of the most glowing, beautiful titles of any kind ever conferred on anyone. And Dr. Jane, as she's belovedly called around the world, is so much more.
But I think the best introduction of all is simply to read a paragraph that you wrote, Jane, to the supporters of the Jane Goodall Institute.
You wrote, "I have often shared that every single person makes an impact every single day, and you get to choose what sort of impact you make. Each of us has the power to create a harmonious world for people, other animals, and ecosystems.
"Over my lifetime, I have seen inequities, such as poverty and unsustainable consumption, create unparalleled existential crises which have the real potential to create an environmentally uninhabitable world. But these human driven crises also have human driven solutions. There are millions of examples of hope all around us.
"I am so proud of what we have accomplished. And as I reflect on all we have left to do, I am invigorated by your investment in building a better world for all. I see hope as the light at the end of a dark tunnel. And through our efforts, we are getting closer to that light, together, every single day."
Thank you, Dr. Jane. Wonderful words. And the best thing is you live those words.
So, my friend, I would like to start with a question about childhood, your childhood. As I think about the amazing, challenging and ultimately inspiring life that you've led, I have to think that there were seeds of those qualities in your childhood. I think about a story like, that you actually hid out in the hen house, didn't you, for several hours when you were four years old, just because you wanted to find out how a chicken lays eggs. So first of all, is that chicken story true? And what were the primary influences in your childhood that helped strengthen you in these core qualities?
Jane Goodall
Well, you know, the main driving force behind who I am today was my amazing mother. She supported me. And this is so important, I think, for a child. That a little boy may say he wants to be an engine driver. Don't say, "Oh, how ridiculous, you're not going to do well," it's, "What a great idea!" And of course, later on the little boy won't want to be an engine driver. But I think supporting what a child wants is really, really important.
So, to go back to your henhouse story, mom took me for a holiday in the country because we lived in London. I was passionate about animals and I was given the job of collecting the hens' eggs. All the animals were out in the field, not a horrible factory farm, they didn't exist back then. And I apparently kept asking everyone, where's the hole on the hen big enough for the egg to come out of? Well, nobody told me. So I distinctly remember seeing this brown hen going into one of the hen houses where they slept at night and laid their eggs and thinking, I suppose, "Ah! They're going to lay an egg." So I crawled after her. Big mistake. She flew out.
So my little three year old brain must have thought, well, no hen will come in here, it's a frightening place. So I went and hid in an empty hen house. Yes, 4 hours and finally was rewarded. I saw the egg plop out, rushed back to the house. By this time it was getting evening. My mother had actually called the police and got really scared. But instead of, "How dare you go off without telling us? Don't you dare do it again," which would have crushed everything. She sat down to hear this wonderful story, and if you think about it, that's the making of a little scientist. Curiosity, asking questions, not getting the right answer, deciding to find out for yourself, making a mistake, not giving up, and learning patience. And a different mother might have crushed all that scientific curiosity, and I might not have done what I've done.
T. A. Barron
Yes, so true. And I would add that there's a sense of wonder in there, too, with your curiosity. Amazing to see in a four-year-old.
Jane Goodall
I spent all my time outside, and, you know, there was no television when I was little, it hadn't been invented, so there was nature and books, and I loved books. And it was because of reading Tarzan and falling in love with this glorious lord of the apes when I was ten years. And you know little girls of ten are very romantic. And that's when I said, I will grow up, go to Africa, live with wild animals and write books about them. Everybody laughed at me. How will you get there? You don't have money. It's far away, it's dangerous. But not mom. She just said, if you really want something like this, you're going to have to work really hard, take advantage of every opportunity, and if you don't give up, hopefully you find a way.
T. A. Barron
What a fabulous mother.
Jane Goodall
Yea, she was amazing.
T. A. Barron
And the world is all the better because she encouraged those qualities in her young daughter. Speaking of Tarzan, I remember when you once told me that you like Tarzan, but he married the wrong Jane.
Jane Goodall
Yes, that's right. Well, he did, didn't he?
T. A. Barron
He did.
Jane Goodall
I knew there wasn't a Tarzan, but it really did make me – it set me on my road. And, you know, I've taken that story about Mum, what she said to me around the world, particularly to young people, particularly girls in disadvantaged communities, and so many have written to say thank you. You taught me because you did it, I can do it, too.
T. A. Barron
That's such a crucial idea right there. And you've conveyed that by living it.
[Music Plays]
T. A. Barron
You know, as I've watched you and admired you over, now, more than 40 years, and loved you, I think there are two core values that, for me at least, come through everything you do. One is the idea that everything is connected, and the other is the idea that every person can make a difference. Would you agree with that assessment?
Jane Goodall
Yeah. Except that it's not that every person can make a difference. Every single day you live, you make a difference. It can be a bad one, it can be just not changing much, or it can be positive. That's the choice.
T. A. Barron
That's right. That's right. So we can passively make a difference, or we can, by our own initiative and mindfulness, make a difference.
Jane Goodall
Yeah.
T. A. Barron
Jane, how do you keep those values strong in our world today when there is so much trouble environmentally, pollution of the air and the oceans, forests and ecosystems being destroyed, extinctions happening in terrifying numbers. How do you maintain that sense of powerful, empowering hope?
Jane Goodall
Well, you know, a lot of people say to me that they've lost hope because of all the problems you just mentioned and all the ones you haven't. And if you look around the world, I defy anybody not to feel depressed, because it's depressing. So, the thing is that people then feel helpless and fall into apathy and do nothing. And if that happens, particularly to our young people, we're doomed.
T. A. Barron
Right.
Jane Goodall
So how do we give people hope? Say, well, don't think globally, as we're told, and then act locally. Act locally first. Do something that you care about in your own community, maybe collecting trash, maybe planting trees, maybe volunteering in a shelter, whatever, and that'll make you feel better. And you can inspire others to help you. And then you can think, well, there's people like this around the world doing the same sort of things, and then finally you dare think globally. And the reason I keep my optimism is, I swear there are far more decent, good people on the planet than there are uncaring, and – we know there's those. We know about them. We could name them, many of them. And it was Mahatma Gandhi who said, the planet can provide for human need, but not human greed. So we get these big corporations, and they're just taking natural resources faster than nature can replenish them. And unsustainable lifestyles mean that as more people rise out of poverty and want the same kind of unsustainable lifestyle, what's going to happen? So, that has to change.
T. A. Barron
Absolutely.
Jane Goodall
And it sort of is changing. You know?
T. A. Barron
Are you sensing that?
Jane Goodall
Yeah, I am, because of the youth. But we come back to the youth. But on the other side, there's poverty, because if you're in desperate poverty, you're going to destroy the environment to survive, cutting down trees to get firewood or make money from charcoal or timber or make land to grow more food.
T. A. Barron
Now, I have greatly enjoyed so many of your books, but two that really rise to the top are your Reasons for Hope and The Book of Hope. And in there, you enumerate the baskets in which you find reasons genuine, powerful, compelling reasons for hope. One of them is the power of young people, and I completely agree with you about that. Another is the human intellect, and another is our indomitable human spirit. And then finally, the resilience of nature. Could you please talk a bit about all four of those baskets?
Jane Goodall
Okay, well, let's start with the resilience of nature. And when I first arrived at Gombe, where I studied chimps back in 1960, it was part of a forest that stretched across Africa. When I flew over in the late 1980s, I was shocked. I mean, I knew there was deforestation. I wasn't prepared to see a small island of forest surrounded by bare hills. And that's when it hit me. Why are the hills bare? A, there's more people living there than the land can support. B, they're too poor to buy food elsewhere. Their farmland is overused and infertile and they're struggling to survive. So it hit me then, if we don't help them find ways of making a living without destroying the environment, we can't save chimps, forests or anything else.
And so JGI began our Take Care or TACARE program, which didn't involve a group of arrogant white people marching into a poor African village and telling them, oh, we're going to help you. This is what we're going to do. No. It was a locally selected team of seven Tanzanians who went into the twelve villages around Gombe and asked them what we could do to help. And that's where we began. Gradually, it came to not just restore fertility to the land without chemicals, by the way, better health and education facilities, water management programs, scholarships to give girls a chance of secondary education, which wasn't happening back then, microfinance programs so that people could start their own small, environmentally sustainable business and family planning. And that program is now in 104 villages throughout chimp range in Tanzania, and it's in six other African countries where we work with chimps. And so the people have become our partners in conservation, understanding that saving the environment isn't just for wildlife, it's for their own future.
T. A. Barron
Brilliant.
Jane Goodall
So if you fly over the area today, you won't see the bare hills. Give nature a chance and the trees are coming back, many of them from seeds left in the ground. The farms have moved because people realize these steep slopes, terrible erosion happens, and animals, biodiversity is creeping back. That's just one example. And there's also the examples of animals on the brink of extinction that are being given another chance.
T. A. Barron
Yes, and I love the humility underlying that approach that you've just described, too, as well as the questioning. Let's get above the problem and see what's really going on here.
Jane Goodall
Yep, yeah. Okay, so the second is the human intellect. So it's the one thing that makes us more different from other animals than anything else. And other animals are way, way more intelligent than people used to think. Not just the apes and the monkeys and the whales and the elephants, but also birds and domestic animals, and right down to the octopus. I mean, unbelievable intelligence. But none of them, even the brightest, they can't design a rocket that goes up to Mars with a little robot that takes photos. And isn't it bizarre that the most intellectual creatures ever walked the planet is destroying its only home? I mean, I'm sure, Tom, you've seen that photograph from space of this little blue and green globe surrounded by the dark, black entity of space.
T. A. Barron
The most amazing photograph ever made.
Jane Goodall
Yeah. And we're destroying it bit by bit by bit. But finally, where scientists are beginning to use their brains to come up with innovative technology, improving solar and wind and tide all the time, and various other ways, helping us to live in greater harmony. And we as individuals are beginning to think about our own individual footsteps, environmental footsteps. So, you know, the human brain, we got ourselves into this mess. Now we must use that intellect for all we're worth. Get more girls into STEM education because girls have a nice, caring side to them very often.
T. A. Barron
Yes.
Jane Goodall
So we have to count that as one of the reasons for hope, because we are very bright when we set our minds to it. There's nothing we can't do. In fact, some of it's scary. Aren't you scared by AI? I am.
T. A. Barron
I am, absolutely. Just as I'm scared about genetic engineering.
Jane Goodall
Oh, don't talk about that.
T. A. Barron
But at the core, they are tools, right? Forget about artificial intelligence. Take something as simple as a hammer, and you can use a hammer for something good, you can help build a house for someone, or you can use a hammer for something violent and hit people over the head with it. It's up to the holder of the tool. It's not the tool itself that's the danger, is what I'm saying. It's the user of the tool.
Jane Goodall
It's the user.
T. A. Barron
That's where we have to rise to a higher level of intelligence to use these things wisely.
Jane Goodall
And that's where many governments are failing miserably and using this amazing tool for spying on each other, for interfering in other countries politics, for creating weapons of mass destruction. I mean, we're in a pretty grim situation right now.
T. A. Barron
Yeah.
Jane Goodall
So, luckily, one advantage of the numbers of people that are on the planet is that there's enough people to come up with the good uses to counteract the bad users. Hopefully, that's what we have to hope. And by the way, hope isn't just wishful thinking. I mean, I could wish that I could fly. That's wishful thinking. But hope, to me, is about action.
And I sometimes see our species right now as at the mouth of a very long, very dark tunnel and right at the end as a little star. And that star is hope. But it's no good sitting at the mouth of the tunnel and hoping that that star is going to come to us. No, we have to roll up our sleeves, crawl under, climb over, work around all the obstacles, all the ones you mentioned between us and hope. And the good news, there are groups of people working on every one of the problems that we face.
T. A. Barron
Yes.
Jane Goodall
Unfortunately, they tend to work in silos. So you might solve your problem, and if you're not thinking of the big picture, you are not thinking that, oh, that's caused a problem somewhere else.
T. A. Barron
Yes.
Jane Goodall
So you find a way of irrigating your crop, and you don't realize that this is draining the aquifer and leaving other people in a desert. So we have to get together.
[Music Plays]
T. A. Barron
When you point to those groups of caring, mindful, compassionate, dedicated people, that's really that third basket about the indomitable human spirit, isn't it?
Jane Goodall
Yep. And I know one person. He's in the book, but his name is Chris Cog, he's Canadian. And he was born with arms that were to here. Little, about the size of a wrist, little tiny things each side, no legs. Something that might be a rudimentary foot coming out of his thigh. And he goes around the world on a skateboard. There's nothing he doesn't do. He drives a tractor. He'll hop up on the sofa beside you, and I'm offering to sit on the floor. No, he hops up and you look into his eyes and his face, and you see startling intelligence. But even more amazing, a great love of life and enthusiasm for living and defeating obstacles. And that is the indomitable spirit.
T. A. Barron
I totally agree. As you know, I write about fantasy characters who are invented, who show qualities like that, but they aren't nearly as inspiring and powerful and amazing as the real world examples of that. And they're all around us, aren't they?
Jane Goodall
They're everywhere. In fact, I always say all of us have an indomitable spirit, but so many don't grow it. They just keep it in. They don't realize it's there. They need to let it out to inspire others and make the world better.
T. A. Barron
Exactly.
Jane Goodall
They're afraid. They feel that they can't make a difference, and so they shut in that spirit. And that's got to change. That's why every individual matters and makes a difference every day. Then my last reason, and my best reason for hope is young people.
T. A. Barron
Yes.
Jane Goodall
And Tom, you know about our Roots and Shoots program, don't you? Which began in 1991 with twelve high school students in Tanzania. It's now in 67 countries and growing. It's got members in kindergarten, university, everything in between. All choosing three projects as a group. One to help people, one to help animals, one to help the environment. And they're changing the world, they're changing their parents, they're planting millions of trees, they're raising money, like right now, for refugees and for the people suffering in Ukraine. And young people have this – they have this indomitable spirit, and they're not going to give in. And they have hope. And if our young people lose hope, we have had it. So I feel my main job for the rest of my life, however long it is, is giving people hope.
T. A. Barron
What a wonderful life's mission. It's so important, Jane, and I believe that that is exactly the highest and best place for us all to put our energies, is encouraging these wonderful young people who have intelligence and courage and honesty and high ideals, and they will not settle for the idea that they don't have the power to make a difference. They know they have the power.
Jane Goodall
Well, that's once they've been educated, but so many are just left with them, they don't have any opportunity to learn those things. I was talking to some untouchables in Nepal, and when I was talking, with translation, obviously, some of them began to cry. And why are they crying? Nobody has ever told them before that they matter. So there they are, forced to work in the salt mines.
T. A. Barron
One of the most powerful things we can do because of all of this, don't you agree, is to tell stories, to tell stories of real young people like the ones you're talking about. And also, tell stories about places and experiences that help convey a sense of empathy for others and other places that may seem far away or removed. You know, where the bananas on your table come from, but also give you a sense of your individual power.
Jane Goodall
Yeah, absolutely. And you know, one, to me, very powerful story about the effect that young people can have. I was talking to the CEO of a big international corporation, and he said, you know, Jane, for the last eight years, I have been really, really working to get my company ethical in the country where we source our products, making sure the wages are fair, working with the local community, trying to treat people fairly along the supply chain, being ethical in our offices around the world and treating our customers in a decent, respectful way.
And he said there were three reasons. One, I saw the writing on the wall. I saw that in some cases, we're using up natural resources too fast, faster than nature can replenish them. Secondly, consumer pressure. People are beginning to want to buy products made ethically unless they're very poor, when they can't have that choice. And so, obviously, companies will respond to that. But he said, what tipped the balance was my little girl of eight coming home from school and saying, Daddy, they're telling me that what you're doing is hurting the planet. That's not true, is it, Daddy? Because it's my planet.
T. A. Barron
How beautiful. That's it. That's it. What a ringing, powerful voice that eight-year-old girl has.
Jane Goodall
Yeah. And I've taken that story around the world.
T. A. Barron
It's marvelous. And, you know, that's why we have over here, a Young Heroes prize. That's for encouraging young people who are stepping out and doing something positive for the good of the whole. But I think that we human beings really take in our biggest ideas from stories, don't you? And that's why we need to couch things as you do so beautifully, and you always have in a story. Let me tell you about a place and a time and a marvelous creature named David Greybeard. And then everyone is leaning forward. I've seen you do that in our living room and all the children we had assembled lean forward. Tell us, tell us about David Greybeard.
Jane Goodall
The first chimpanzee to lose his fear of me. For four whole months, they'd vanish whenever they saw me close, and I was having to learn only through my binoculars. And money was for six months. And I was terrified. If I didn't see something that was special, that would be the end, and I would have let Leakey down and my dream would come to a full stop. But then, that one special day when I saw David Greybeard, very recognizable from that white beard, you can see it in the picture behind me. And he was crouched on a termite mound, and a black hand was reaching out and breaking off grass stems and pushing them down into holes in the termite mound. It was the time when the princes and princesses, they call them, fly out to form new colonies. So all the soldiers are at the entrance to the tunnel guarding it, and so they bite onto the grass stem, and David was picking them off with his lips, and I saw him pick a leafy twig, and to use that as a tool, he had to pluck the leaves off. And at that time, it was thought that humans, and only humans, used and made tools.
So it was the breakthrough observation, brought in the National Geographic. And then I could relax and gradually got to know the other chimps and their different personalities and their behavior. So like ours in so many ways, even to the extent they have a sort of primitive war, as well as love, compassion.
T. A. Barron
Yes. And they're highly social. And one thinks, in reading your descriptions of them, that they also have a sense of wonder in their own lives. In the quiet moments when they're sitting by that waterfall or that rushing stream.
Jane Goodall
Well, they get very excited as they approach the waterfall. It's only a tiny stream, but it's a rocky bed, so the water is falling 80 feet and landing on this rocky bed. And so gradually there's a roaring sound, and then breeze is displaced from the ravine down which the water falls. And the chimpanzees do these wild displays, stamping through the water, throwing rocks, giving their [makes chimpanzee noises], and sometimes climbing the vines beside the waterfall, pushing out into the spray. And then you can see them afterwards sitting, and they're looking up. Their eyes are following the water. It's coming. It's here. It's going. What is this? What is this? And I swear, if they had spoken language, that it could lead to one of the early Animistic religions, you know, the worship of the sun, the stars, things that people didn't understand.
T. A. Barron
Yes. You ultimately did Dr. Leakey more than proud, didn't you? And that observation you just described, I just want to say, for the record, it really did redefine how humanity looks at not just our fellow creatures, but at ourselves. As you said, we were defined as Man, the Tool Maker, right? And then after that, I remember reading something that Leakey said that was to the effect that now that Jane has made this observation, either we have to redefine tools or we have to redefine man.
Jane Goodall
Or accept chimpanzees as humans.
T. A. Barron
Right, right! [Laughs]
Jane Goodall
But, you know, the more I got to know about the chimps and the more I watched mothers raising their children. I saw their emotional lives. I saw grief, when a mother died, from her child or the other way around. I saw males competing for dominance, showing aggression and anger, looking just like some human male politicians, by the way. And I saw, as I've said, a sort of primitive war but also compassion and true altruism as when an unrelated male adopts a little motherless orphan. And yet when I got to Cambridge University because Leakey told me I had to do a PhD and I hadn't been to college and I was very nervous and I was told I'd done everything wrong. I shouldn't have named the chimpanzees. They should have had numbers. I couldn't talk about them having a personality, a mind, or emotions because those were unique to us. But gradually, and I didn't confront them, it's not my way, I just went on writing about chimps as they are.
T. A. Barron
Yes.
Jane Goodall
And I'd had this wonderful teacher when I was a child who taught me in this respect, the professors were wrong. And he's also up behind me my dog, Rusty. And anyone who shared their life in a meaningful way with any animal knows that they have personalities, minds, and emotions.
T. A. Barron
Absolutely. We have two golden retrievers downstairs and they have such abundant personalities. And you feel it, you know it. And they tell you a lot if you just listen to their eyes.
Jane Goodall
I had guinea pigs and they definitely had very distinct personalities. Very different from each other.
T. A. Barron
No question.
Jane Goodall
It's very obvious that we're not the only sentient beings on the planet.
[Music Plays]
T. A. Barron
So, Jane, knowing what you know now, how would you define humanity? How would you complete the sentence, "Humans are the creatures who…"
Jane Goodall
We have this intellect. And I think, because we've developed this power of speaking with words, that means that we can teach about objects that aren't there. Chimpanzee infants learn by watching and imitating. But we can tell children about something happening on the other side of the world or something that happened a thousand years ago. We can try and explain the stars in the heavens.
T. A. Barron
Yes. So we have that intellect we can use for creating control and aggression or for solving problems and creating peace, right?
Jane Goodall
Yes. That's the whole thing. So we have not been using our intellect wisely in many cases. And if we'd had wisdom, we wouldn't have split the atom. And the wisdom of the indigenous people who make a decision after thinking, How will this affect generations ahead? Whereas we make decisions, How will it affect me now or my next political campaign or the next shareholders meeting?
T. A. Barron
Exactly.
Jane Goodall
So we've lost wisdom, not all of us, but by and large. And that's what we have to regain and that's what we have to build into the youth today – wisdom.
T. A. Barron
And that intellect which creates so many of the problems we face also is a great source of hope because it gives us a power by which we could make better decisions and we could turn things around.
Jane Goodall
Well, I have a bone to pick with the media. Sure, we need to know about all the doom and gloom, we do need. But there are so many amazing people and wonderful projects around the world. They should give at least equal time. And there's this feeling in the media that it's only the bad things that make people read them. But I don't think it's true. I think people are desperate for hope. That's why we announced that Jane would be giving a lecture in Arizona State. Oh, no. I think it was in… I can't remember… with just two weeks to go and everybody said oh, well, it's a bit stupid because we'll never fill the auditorium. But they were turning people away and that was 5000 people. Because everybody wants hope.
T. A. Barron
Yes. So coming back to those young people, I'd like to just ask you if you could say one thing to every young person around the world, what would you say, Jane?
Jane Goodall
I would say exactly how you began this conversation. Don't forget that every day you make a difference. And you can choose what sort of difference you make. That your life matters and that you have a role to play. I don't think there's a better message than that.
T. A. Barron
No, nor is there one that we need more than that. Let me ask you a parallel question. What would you say if David Greybeard were sitting here? What would you say to him, and he could take in everything you said, about the relationship that you have with each other?
Jane Goodall
You mean our relationship with animals?
T. A. Barron
Yes.
Jane Goodall
I'd say thank you to David for enabling the chimp study to continue. And he was a leader, but not in the sense he wasn't a top ranking male, but he was gentle. If a young one was in trouble, they very often ran to David and he would pat them or put his arm around them. And so when David set off somewhere, very often the others would follow. Whereas the top ranking male who got there through aggression, nobody wanted to follow him. So there are two kinds of leaders, I think, with people and chimps and other animals too. Those that get there by sheer aggression, dominance, and those that people want to follow. I mean, people like Mahatma Gandhi and so on.
T. A. Barron
Yes. Well, he, like you, was an independent thinker too.
Jane Goodall
That's right.
T. A. Barron
Which took courage.
Jane Goodall
Not be afraid to go out on a limb. People say, how did you manage in a male dominated world? The thing is that back then, fieldwork wasn't male dominated. There was nobody out there. There were two men studying, one gorillas and one baboons. But there was nobody else out there. So, yes, people were studying animals in captivity, but not in the field. So I more or less had it all to myself.
T. A. Barron
Jane, let me ask you a different, very soulful question. You have a powerful scientific mind. That's how you've changed our worldview about animals, our fellow creatures and ourselves. But you also at the same time, have an equally powerful sense of spirituality. It comes through everything you say and do. A sense of wonder, a sense of greater spiritual power. It shines. How do you reconcile both of those sides of yourself?
Jane Goodall
I don't see any conflict. My mother didn't, and Lewis Leakey didn't, and I never have. So that, let's take it to its extreme belief in some great spiritual power, which can be called God or whatever, and then the gradual scientific exploration of the wonders of the natural world, the wonders of the human mind. How do they conflict? To me, they don't. And I think what's exciting is that there's so much left to discover. We will never discover it all.
Then, some people believe that death is the end. Other people, like me, believe that the end of this life isn't the end of our consciousness. And there's so many books now about near death experiences. And somebody asked me the other day in a big lecture in Canada, what's your next great adventure? So I thought for a bit, nobody had asked me that before, and if it had been, like, 20 years ago, I would have said, going to explore the unexplored areas of Papua New Guinea, for example. But that's past now. I can't do that. So I said, dying. And it was a kind of collective – gasp – sound like that, and then a few nervous titters.
And I said, well, when you die, there's either nothing, which is that, or there's something. And I believe there's something. And I can't think of a greater adventure than discovering what that something is. So the woman who asked the question, she came up to me afterwards and she said, Jane, I've always been afraid of dying. But now I think about it, and I think it might be rather exciting.
T. A. Barron
Beautiful.
Jane Goodall
Yeah.
T. A. Barron
I love that.
Jane Goodall
Well, I got a letter from the head of the Jane Goodall Institute in Spain, and he said, there's this young man. He doesn't speak English, but he's been living for two years in unendurable pain. And with his parents consent, Sunny, 20, he was going to do assisted suicide. He just couldn't take it anymore. And he's always loved animals, so could you send him a note? Which, of course, was a bit difficult. But anyway, I did a video for him, which obviously had to be translated, but I said, I believe that after death that maybe we'll meet. You love animals. I love animals, and so maybe we're destined to meet sometime in some future space. And he wrote back and he said, Jane, I've always been terrified of dying. But now I'm not terrified at all. And his mother wrote after he'd gone, and she said, Jane, I can never thank you enough. You gave my son, whom I loved dearly, the last week of his life with a smile on his face.
T. A. Barron
Such power in that formulation, the next great adventure, one that we'll all enter at some point, just please don't rush, okay Jane?
Jane Goodall
It's not up to me! It's up – up there.
T. A. Barron
I have one more question for you, though, that's related because it's about mortality. You have a birthday coming up, and whether you're 29 or 89, I can't remember, but one of those, and it is customary on your birthday to make a birthday wish. I now would love to know, Jane Goodall, Dr. Jane, what is your birthday wish right now?
Jane Goodall
If I could have one wish, just one wish, I'd say stop that war in Ukraine because it's horrible and the death on both sides and the suffering and how it's affecting global hunger, that would be the best present I could have now, but there are so many other things to wish for. I wish Roots and Shoots would be in all countries. I wish well, what would your wish be?
T. A. Barron
I wish that people would cherish this beautiful but beleaguered planet that nurtures all of us and our fellow creatures, and to cherish the wondrous places and the inspiration. I wish for a higher consciousness for all people that would lift ourselves, our fellow creatures, and this wondrous planet.
Jane Goodall
If it wasn't for the war, my wish would probably be that we learn to live in peace and harmony with each other, with animals, and with the natural world. And we stop destroying and we get to understand we are part of the natural world, we depend on it for food, water, air, everything, but we depend on healthy ecosystems. And I see an ecosystem like, take a forest, forest ecosystem, it's like a beautiful, living tapestry of life, and each little species of animal and plant, as well as the big ones, they have a role to play, they're all interconnected. So as you gradually lose species and they become extinct in that ecosystem, eventually the tapestry will hang in tatters, and that will lead to ecosystem collapse, which is what's happening.
T. A. Barron
Yes, and that forest ecosystem supports so many wondrous, diverse creatures that we hardly understand at all. There's so much knowledge there, there's so much fellow life forms there. My favorite description of a forest was Shakespeare's passage where he describes a woods as a place where he could find books in the running brooks, sermons, and stones, and goodness in everything.
Jane Goodall
I knew you were going to say that.
Jane Goodall
It's never been said better.
Jane Goodall
Yes, quite right.
T. A. Barron
Well, Dr. Jane, you have been so generous with your time. Let me just say one last thing in parting, Jane, really, from my heart to yours, you are an inspiration to us all. You are, yourself, a force of nature for saving our world and ourselves. And you're a living example of the power of every person to live mindfully and compassionately and courageously. And best of all, you give me hope. You truly do.
Jane Goodall
It's my job, Tom.
T. A. Barron
But it's your job because it's who you are. So in that thanks is not just for all the things you do, but it's the compassion and grace and courage and love with which you do all of that.
Jane Goodall
Well, you have the same qualities, Tom, so we just go it together.
T. A. Barron
You know, I just knew you were an incredible spirit the very first time I heard you, and that was 40 years ago, Jane. And here you are, so much brighter. That shining is so much brighter and more powerful and full of rainbows and starlight and supernovas.
Jane Goodall
That's right, yeah. We've got to give people hope, and at the same time, they got to know no hope unless they do their bit.
T. A. Barron
I agree. So, last of all, to all of my dear listeners out there, I urge you to visit the website of the Jane Goodall Institute. Check out the inspiring and courageous work that's happening all around the world, perhaps near you, and if not, start one right there and see what you can do yourself to help be a force of nature like Jane Goodall. Thank you, Jane.
Jane Goodall
Thank you, Tom. Thank you, Tom. And much love to you and success in your next endeavor.
T. A. Barron
Thank you.
T. A. Barron
To everyone out there. Let me just say thank you so much for joining us for Magic & Mountains. We'll see you next week, and in the meantime, may you have magical days.
Carolyn Hunter
We hope you enjoyed this week's episode of Magic & Mountains: The T. A. Barron Podcast. Don't forget to subscribe, leave a five-star review and share this podcast with your family and friends. For more information and to find all of T. A.'s books, visit tabarron.com. Have a magical week.