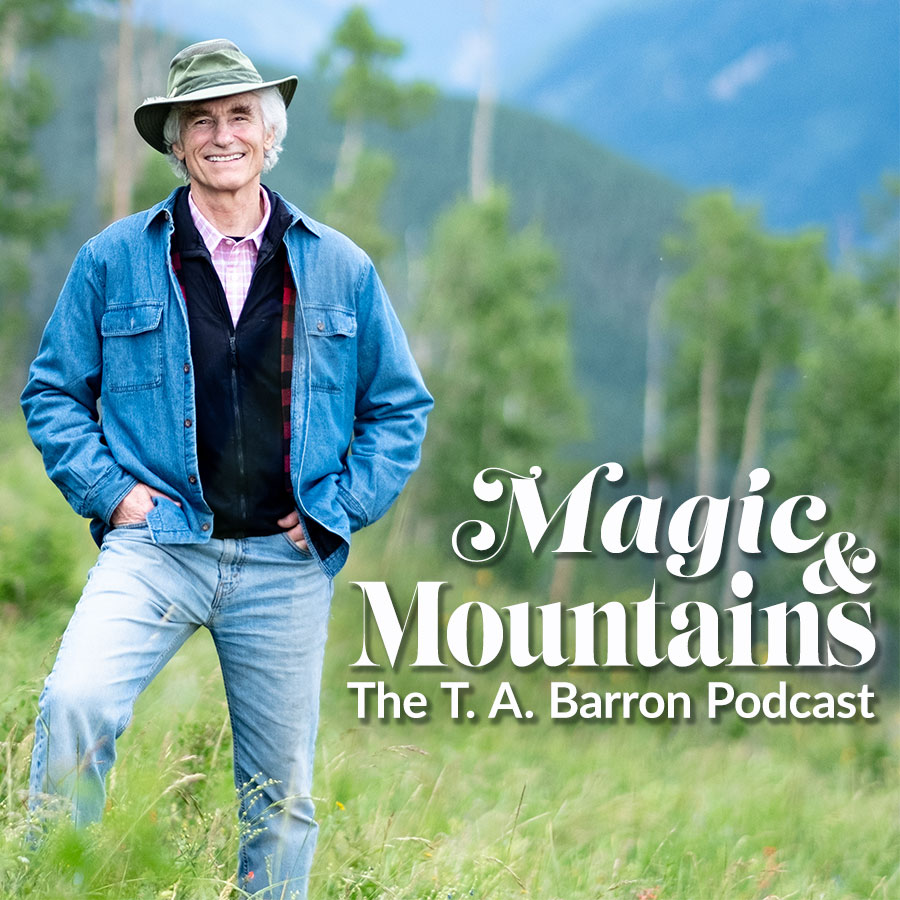 How to Write with a Wide Open Heart
(and a Magical Cat)
with Jill Santopolo
Season 2, Episode 6
Jill Santopolo is an author, publisher, mother, and born storyteller. She gracefully weaves big moral questions, dilemmas, and choices into all of her books.
In this episode, T. A. and Jill illuminate their creative process in working together as author and editor. They discuss how to add layers of richness and depth into books. They share why stories make us feel less alone, how to see a place as a friend, and what guides us through the challenges of creating authentic worlds.
What does it mean to create something that is emotionally autobiographical? And what happens if you pat a magical Cat?
Tune in to find out.
Check out Jill's books The Light We Lost and Stars in an Italian Sky.
Magic & Mountains is hosted by T. A. Barron, beloved author of 32 books and counting. Carolyn Hunter is co-host.
Magic & Mountains Theme Song by Julian Peterson.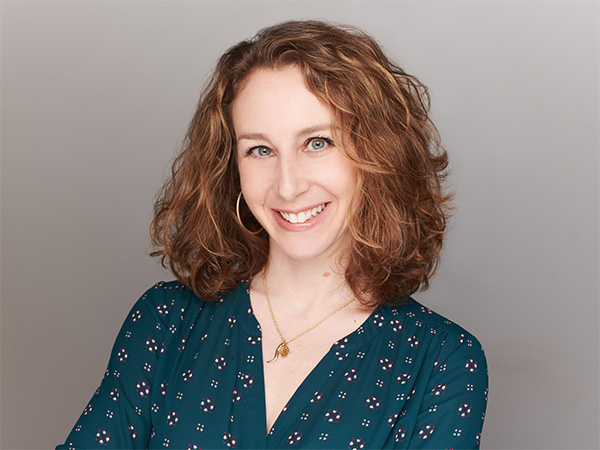 Jill Santopolo
Jill Santopolo is the internationally best-selling author of Stars in an Italian Sky, Everything After, More Than Words and The Light We Lost, which was a Reese Witherspoon Book Club pick and has been optioned for film. Her books have been translated into 35 languages and have been named to the New York Times, USA Today, Wall Street Journal, Apple, and Indie Bound bestseller lists. She is also the author of the Alec Flint Mysteries, the Sparkle Spa series, and the Follow Your Heart books. Jill holds a BA from Columbia University, an MFA from the Vermont College of Fine Arts, and a certificate in Intellectual Property Law from NYU. She is the publisher of Philomel, an imprint of Penguin Young Readers Group and lives in Washington, DC and New York with her husband and daughter.
Note: Magic & Mountains: The T. A. Barron Podcast is produced for the ear and designed to be heard. If you are able, we strongly encourage you to listen to the audio, which includes emotion and emphasis that's not on the page. Transcripts are generated using a combination of speech recognition software and human transcribers, and may contain errors. Please check the corresponding audio before quoting in print.
How to Write with a Wide Open Heart (and a Magical Cat) with Jill Santopolo
T. A. Barron
Welcome, everyone. This is
Magic & Mountains
.
Carolyn Hunter
The T. A. Barron Podcast.
T. A. Barron
Jill Santopolo, for starters, is a brilliant writer. Nothing less than brilliant. She is the internationally bestselling author of lots of books, including the new one: Stars in an Italian Sky, Everything After, More Than Words, and my personal favorite, The Light We Lost. I get teary even just thinking about that story, even seeing the cover.
Jill's books have been translated into more than 30 languages, have been named to multiple bestseller lists and have also been optioned for film. She holds a BA in English Literature from Columbia. She has an MFA in Writing for Children from Vermont College of Fine Arts. Yay, VCFA! And she has a certificate in intellectual property law from NYU. On top of all this, she is the publisher of Philomel, an imprint of Penguin Young Readers Group, where she edits loads of critically acclaimed, award-winning and bestselling books, including She Persisted by Chelsea Clinton and Alexandra Boiger, Girling Up by Mayim Bialik, Calling All Minds by Temple Grandin, and Just Ask! Be Different, Be Brave, Be You by Justice Sonia Sotomayor. As well as, I should add, a few books by some Colorado guy named T. A… something.
Jill has traveled all over the world to speak about writing and storytelling. In fact, we first met at a book event in the Poconos, if I remember right, that was sponsored by the Society of Children's Book Writers and Illustrators. And I was amazed and impressed by this wonderful person, not realizing that in a short heartbeat of time, she would become my editor. Best of all, Jill Santopolo is one of the most kind, caring, loving, wise, loyal, and funny people I know on this earth. In sum, she is all-around awesome. Jill, welcome to this podcast.
Jill Santopolo
Thank you so much, Tom. I don't know if I can live up to that introduction. That was pretty incredible. I'm going to take you on the road as my hype man!
T. A. Barron
Jill, this is great. I am always happy when we get to speak, but now I feel like this is only fair that I get to interview you for a change. First, tell me how little Laura is doing. Am I right? Am I guessing right? She's about two and a half or something?
Jill Santopolo
Almost two and a half.
T. A. Barron
Wow.
Jill Santopolo
She's great. She's so funny. She loves reading. She loves books. Though, she told me she's not going to be a writer, she's going to be a scientist and an artist. I said, okay, perfect.
T. A. Barron
Love her.
Jill Santopolo
Yeah.
T. A. Barron
And I know you encouraged that. It'll be whatever she's going to be. That's part of our work, right, as parents, is to listen to these beautiful little people and then hear who they are, let them tell us who they are, and then do everything possible, everything in the universe we can to help them become that in its fullest best form at that age. I remember so vividly all of our kids at two, two and a half. They're so exciting to be with because they are just figuring out the world around them. They're noticing, they're reaching for things. You're reading to them. They're understanding. They're informing you that they're going to become a scientist. All this, it's so exciting!
Jill Santopolo
It's really exciting. And you know what I think is so amazing is she has her own taste in books. That it's not necessarily the books I would have chosen for her. But we went into a bookstore the other day, and I took this one picture book off the shelf. I think it's called Very Good Hats by Anne Patchett. And I thought it looked great. And I was like, Laura, what do you think? Do you want this book? And she walked over to this other book called Milo's Monster, and she picked it up and she said, no, I want this one. I said, are you sure? Yes, I want the monster. Okay, sure. You get the monster then.
T. A. Barron
I love it. I love it. And I also love the image of you, deep well of wisdom about books, taking your daughter into a bookstore and having that chance to explore together. How beautiful is that?
Jill Santopolo
Yeah, it was really nice. It was really nice.
T. A. Barron
Well, one thing I need to inform you about. We are really making extraordinary progress on a certain movie project.
Jill Santopolo
That's great.
T. A. Barron
But, Jill, I'm giving you fair warning here. There will come a day when I'm going to talk with you about a book that's a memoir of the making of —
Jill Santopolo
The Merlin movie!
T. A. Barron
The Merlin movie. And it's going to be amazing and fun to write.
Jill Santopolo
For sure.
T. A. Barron
In any case, shall we dive in?
Jill Santopolo
Let's do it.
T. A. Barron
Let's start, Jill, with your love of stories and books. Where did your childhood connection with the wonders of stories begin? Could you share that with us, please?
Jill Santopolo
Of course. So, I was really lucky in that my mom was a reading teacher, an elementary school reading teacher. So my house was always filled with books, and I gravitated toward them. I loved storytelling, and my mom really encouraged that. So from the time I was honestly three years old, I think I have the book here somewhere that my mother thankfully laminated. But that was the first time that I told a story that she wrote down, and it was about a magical cat.
T. A. Barron
Oh, this is that cat named Stacy.
Jill Santopolo
Yep, yep, who gets turned into a mat if you pat her? I think is the story. No, you get turned into a mat – So if you pat Stacy the cat, you get turned into a mat. Yeah. No, she's a devious cat.
So I started writing stories pretty young, and I always joke that first grade was very prolific. I had a teacher who really encouraged me writing stories, and I handed them off to other kids in my first grade class who I thought were better artists than I was. I mean, were better artists than I was, so that they could illustrate them. So, I always wrote stories, and I was always really touched by stories. I was a huge reader. I mean, my friends, who I was friends with in elementary school, and I'm still friends with today, joke with me that all of my bookshelves were always double stacked, even from when I was the time I was like, seven, because I was so into reading. And what I realized in a lot of ways, as a reader and a writer, is that stories connect and stories have the power to make people feel less alone. And that's, I think, why I read and why I write and why I want to help so many writers bring their stories into the world is that all of us go through a lot of different experiences.
But at the core, we're all human, and there are certain things that we all experience. We all experience love, we all experience loss in different ways. And that's what I write a lot about, and that's what I read a lot about. And you mentioned in your introduction that The Light We Lost has been translated into more than 30 languages. And what was so incredible to me about that experience is that publishers and editors who grew up in different countries, speaking different languages, practicing different religions, different life experiences, would write me letters and say how connected they felt to the story because of their own experience with love or their own experience with loss. And it just really, really strengthened my belief that story can connect us. And it's something that is human.
T. A. Barron
It's so true, isn't it? I feel it's deeply humbling to be part of this art that connects all people, not just across language, but across time, across culture, religions, distance. If it's a good story, it's going to touch your heart. What do you think it is that does that, Jill? What is it about stories that can do that?
Jill Santopolo
I mean, to me, so much of it is emotion and is feeling. I mean, to borrow from your work, right, you have Merlin who feels lost and is looking for family and is looking for purpose and is looking for his own identity. And I feel like those are things that people all over the world are looking for: a place to belong, who they are, people to love them.
T. A. Barron
And we all feel washed ashore in some form at some point in life.
Jill Santopolo
Absolutely. And I think that emotional connection and that feeling of saying, you're not alone in this. You're not the only one who feels this way, you're not the only one who's going through this. If you read the story, you realize there is someone else in the world who has felt this, because they were able to write about it. And if they felt that way, then clearly other people felt that way. And it's not something that you have to battle alone.
T. A. Barron
Really powerful. It's a real form of magic.
Jill Santopolo
Yeah.
[Music Plays]
T. A. Barron
Let's go right to that wonderful book, The Light We Lost. Lucy and Gabe have an extended love affair and an ultimate, surprising, resolution. Could you talk a bit about the book and its origins? Is there anything autobiographical in this book?
Jill Santopolo
That's the question I get the most about that book. So the story is not autobiographical. Lucy's life is not my life. I don't work in television. I don't have two kids, only one. But what I often say is that there are pieces of it that are emotionally autobiographical. So, the book starts, this isn't a spoiler, it starts on September 11th in New York City when Lucy and Gabe are college students. And I was also a college student on September 11th in New York City. And the way that that event sort of threw into question what Lucy wanted to do with her life, what Gabe wanted to do with his life, the way they thought about time and existence and what legacies they might leave behind.
T. A. Barron
Perspective.
Jill Santopolo
Yeah. It was a perspective that my friends and I, I think, really felt at that time. So that, sort of, piece of the story is emotionally autobiographical, if not exactly autobiographical. And I only started writing it after I had gone through a pretty bad breakup. And I was kind of looking for a way to process my emotions without having to talk it through with all of my friends and my sisters a million times and them sort of being like, oh my God, she's still talking about this. So I was like, well, I can write about it. And Lucy, again, is not me. Her boyfriend is not my boyfriend. It was not my experience. But the feelings that she was trying to wade through and figure out and experiencing were the same feelings that I was at that time. So, I joke sometimes that I created an imaginary friend to go through that process with me. But truly, I think it's just the way that I'm best able to process the world is through reflection and writing.
T. A. Barron
I love that phrase you've coined: emotionally autobiographical. And I think that's the doorway we walk through when we're connected by art. Not just stories, but music, sculpture, whatever it is that links us. It's emotionally resonant with something in our lives.
Jill Santopolo
Yeah, absolutely.
T. A. Barron
Is it hard for you to access that deep place where you have those chords of emotional depth that can reach other people?
Jill Santopolo
You know, weirdly, I think no. I don't know why. Maybe it was therapy. I don't know. Or maybe it was because I started writing novels like this when I was in such a vulnerable place myself that it became the muscle memory of writing. That that's where story comes from for me. That's where I go to write it.
T. A. Barron
I actually think it's because you have a deep, wide open heart.
Jill Santopolo
Thank you.
T. A. Barron
And the writing has only deepened that more. And given you ways to express it, but I think it starts with that, Jill.
Jill Santopolo
I mean, I think empathy is so much a part of writing because you have to have empathy for your characters. You have to go into the story feeling for them and trying to understand them. And if you go into a story of your own primed to feel and understand someone else's experience, it has to spill over into real life. Right? Because you're primed for it. You're looking for that understanding. Someone said to me once, "I've never met someone who wants to be a jerk, even if they are being a jerk." The question is, like, well, what then? Why?
T. A. Barron
Yes.
Jill Santopolo
What happened? Why do they feel this way? What is the emotion that is causing this reaction? And I feel like that's what I do in books, and it's what I try and do in real life, too.
T. A. Barron
And so that pathway leads to both true and lasting friendships, but it also leads to characters who feel real and authentic in the stories you write. Jill, I've got to say, just in the realm of editorial critique, since you've given me so many helpful comments, I have to say there's only one thing missing from The Light We Lost, and that is a magical cat. I really think you need a cat that turns people into doormats someplace in that book. But just a thought for another edition.
Jill Santopolo
Yeah. When we do the 10th anniversary edition, right?
T. A. Barron
Yeah. Consider sliding in a magical cat someplace. Just a thought. You're the author. You decide.
So let's probe a bit more about characters since we've just begun talking about them. I find the characters in your books, including the very diverse array of characters in your new book, Stars in an Italian Sky, really walk off the page.
Jill Santopolo
Thank you.
T. A. Barron
It's beautiful to know them. I really feel like this is a fully formed human being. Mind, heart, soul. How do you do that, Jill? Tell us a bit about your process to really come to know your characters so well that then you can send them out into the world and into our hearts.
Jill Santopolo
So I love character development. I think it's one of my favorite parts of writing, and I love kind of trying to get into the skin of different characters. And I think in part it's because I did theater for a while in high school and college and a little bit after, and I loved the kind of getting-to-know-your-character games that we would do, where someone would stick you in the hot seat and ask you a million questions about your character. And you'd have to just on the spot, develop this person who another person put on a page with certain details. But as the actor, you kind of have to fill them out and make them three-dimensional. Directors would stick you in a seat and say things like, what'd you eat for breakfast this morning? What's your best memory of your childhood or whatever, and you're just kind of improv, spinning, and developing this character in the process.
And I feel like when I write, what I try to do is that kind of development where if you ask me questions like that about my characters, what did they eat for breakfast? What's their favorite memory from their childhood? I would be able to tell you. And I think when you're able to do that and think about what's important to this person? What secrets do they have? What are they afraid of? What brings them the most joy? Exactly what motivates them? They end up feeling rounder because there are all of these layers, and I refine and refine and refine the characters each iteration of the book that I write. And if I realize down the line, like, wow, she has this song that's really important to her. And then I go through the book and I sort of figure out ways that I can get that to be part of who she is and not just something that we learn on page 175, that it really becomes part of the fabric of her self.
T. A. Barron
And even if you only disclose 10% of what you know about this character in the course of the story — you're not doing a biography of that character, but you need to know them as well as if you were doing a biography, right?
Jill Santopolo
Right.
T. A. Barron
But that 10% you show is integrated with the 90% you're not showing, but totally understand. And that's part of why they feel believable.
Jill Santopolo
Yeah. Well, and there's a lot of people who don't necessarily like decisions my characters have made, which I'm totally fine with, but what I find really lovely is when they say, but I understand why they made them.
T. A. Barron
Yes.
Jill Santopolo
You know? Like, I wouldn't make that decision. I don't agree with that choice, but I understand why this person, in this situation, made that choice.
T. A. Barron
Yes.
Jill Santopolo
And that's what I'm always striving for, that sort of understanding a reader sort of looking at this person and saying, I see why this person did that.
T. A. Barron
Yes. And there is a difference between a good decision and an interesting decision, right? And if you can understand the interesting decision, even if it's not what you would have made, then that character has a real humanity you can empathize with.
[Music Plays]
T. A. Barron
Jill, what about voice in the characters? How does that develop and ultimately come true?
Jill Santopolo
I think for me, voice spins out of character. For instance, in Stars in Italian Sky, there is a character who is an artist. So the way he sees the world is through a lens of being an artist and what an artist would notice what's important to an artist. So the language he uses when he talks to people is through the lens of how he views the world. And the same with a character who is a tailor or who is a fashion marketer. And also their history and where their family is from, where they grew up, where they went to school or didn't go to school. The way they talk is sort of framed by all of that. It's family, it's location, it's education, it's passion. And all of that kind of comes together in how they express themselves and what they notice and what they say. And then for Stars, the narrative voice is mostly third person, so it shifts when we're in different time periods and in different characters' heads, because the narrator is still the narrator, but is kind of putting on the clothes of each one of these characters and seeing the world through their eyes.
T. A. Barron
Now, there's a little breeze of Romeo and Juliet in that book. Was that conscious or just simply the way the story unfolded?
Jill Santopolo
It was conscious. Once I sort of realized I was going to be telling a love story set in Italy, the home of Romeo and Juliet, I sort of played into it a little bit. It's not broad strokes, but I was having a little fun with it.
T. A. Barron
It's a breeze, not a gale windstorm.
Jill Santopolo
Yeah.
T. A. Barron
But it's there and it adds a certain extra depth that's fun. What about place? Now that we're talking about the wondrous land of Italy or wherever your books are set, how do you think about place and bringing that to life?
Jill Santopolo
I always want place to feel like another character, to feel like it infuses the story with its own kind of emotions and experiences. And for anyone who's not familiar with it, in Stars in Italian Sky, there are two stories. One takes place in 1946 in Genoa just after World War II, and one takes place in New York City in 2017. So, especially with Italy post-war, I feel like it was a very specific moment, and it felt a very specific way with people coming out of the war realizing what had actually happened during the war and then sort of how that led to their own feelings of either guilt or what they wanted out of their own lives. The way their perspective shifted. So there's that piece of it because of the time period and the location combined. But then also, there are different foods that people would eat in Italy than they would eat in… pick another country.
T. A. Barron
I mean, seriously, Italian food carries so much life and sensuous quality and the aromas, the fruit markets, the tastes, and all of the colors, and everything else. So you need to evoke that if you're going to be in Italy.
Jill Santopolo
Well, and also, particularly in the region near Genoa, there are different foods and different things than you would have someone eat if they were, let's say, in Tuscany or Naples or Sicily.
T. A. Barron
And of course, you had to make a trip to Genoa in order to do this right, I hope.
Jill Santopolo
I was there before I started writing. I was there on my honeymoon, and I hadn't really thought I was going to write this book then, it was the beginning of the thought of this book, so I didn't really know what information I would need. But I soaked it all in, just in case.
T. A. Barron
Well, I think you do because you are a born storyteller. Noticing gives us better stories and more material, but noticing also makes us more alive as we're in our primary world.
[Music Plays]
T. A. Barron
I agree whole-heartedly with everything you said about bringing places to life, and it's even true of magical places, imaginary places. I think, in a funny way, they have to be extra real as characters to be authentic and so that people can walk in them or dive in them and be there. I often feel that when I draw the maps of my fantasy novels at the end of the process—
Jill Santopolo
Which are gorgeous.
T. A. Barron
Thank you, Jill. Well, that means a lot coming from you. But I save it to the end because it's so much fun to draw the map. And I've come to know that place. I have sketch maps while I'm writing, but in the end, when I sit down at the big table with pen and inks and actually draw that map, I don't feel like I'm drawing a picture of a place. I actually feel like I'm painting a portrait, a portrait of a friend, somebody I really have come to know.
Jill Santopolo
Well, you know, people talk about world-building in fantasy all the time, but I actually think world-building in novels set in the real world or in historical places is just as important, because… you know, fantasy writers just do it best. But I think understanding a world is so important when you're trying to understand a character. Like, how did this world affect them? And who they are and the choices they make? How did the society that's created at this time and in this place impact them? And I think fantasy writers do it because they know they have to because they're making up a world. But when I read historical fiction, my favorite novels are the ones where the fiction writers have basically treated the world as if it's a – as if they have to world-build the way you would a fantasy world.
T. A. Barron
Yes, I agree. And then we can visit that place.
Jill Santopolo
And it feels like you're really there, you've really gone there.
T. A. Barron
One more aspect of your stories that really strikes me is the way you very gracefully weave in big moral questions, dilemmas and choices that someone needs to think about, needs to make, or even doesn't make, and then has to experience the consequences of that. Could you talk a bit about how you weave those larger ideas and questions into your stories, Jill?
Jill Santopolo
Yeah, I actually just this morning was answering interview questions where someone said to me – and I think, actually, Tom, you and I might have talked about this in one of our early conversations – but where someone said to me, authors often have themes that run through their entire bodies of work. And the question to me in this interview was, what do you think those themes are in your books, and why do you think that those are the themes? And I said, I think that the question of fate versus free will, of destiny versus decision is something that is in all of my books. And I think it's there because it's something that I've thought about for a long time. Like how much of our lives are random and we're just making choices and moving along? Or how much of our lives are sort of scripted or preordained? Whether it's by God or the universe or fate itself or however you want to explain it.
And I think because that central question is so important to me and is one that I have not decided what I really believe yet. It may take me an entire career, and I still don't know if I'll make a decision, but it's something that is always sort of bubbling underneath the questions surrounding my characters in their lives. And one of the things that really surprised me about Stars in an Italian Sky is that one of the contemporary characters, not the one in the past, the one in the contemporary world is actually quite religious and her grandmother isn't. And typically it would go the other way.
T. A. Barron
Mmm, yes!
Jill Santopolo
But because of what her grandmother has seen and experienced in her life and then because of what the granddaughter has, their views on the idea of God or a god or religious tradition are very different. That was something that I found myself surprised by as I was developing these characters and then also really leaning into when I was writing the story.
T. A. Barron
Beautiful. All this gives so much more depth to the story.
Jill Santopolo
I feel like that's the fun part, is sort of adding in these layers of depth. I was saying to someone the other day that when I start a book, I kind of feel like it's me saying, okay, I'm going to make this cross-country trip. And I know I'm going to start in Washington, DC, and I'm going to end in San Diego, and I know I want to stop in Oklahoma and Colorado along the way, but I don't know anything else, really. And then I look at that trip and I say, oh, okay, so I should take these roads. Oh, well, I guess if I'm taking these roads, I should stay in these hotels. And if I'm staying in these hotels, I guess I should have dinner in these cities, in these towns, in these restaurants. And like, oh, I guess I should also visit the largest ball of yarn in America along the way, or whatever it is.
T. A. Barron
Right.
Jill Santopolo
And each draft kind of becomes a more in-depth itinerary.
T. A. Barron
Yeah. By the way, this sounds like someone who has just come back from a long, extended book tour.
Jill Santopolo
Yes, sir.
T. A. Barron
Guilty. I know.
Jill Santopolo
Guilty as charged.
T. A. Barron
But that's a beautiful way to think of it, as a journey. In fact, I think of a journey metaphor also, but it's a little different, surprisingly, for someone who lives in the middle of the Rocky Mountains. My image is that I am working to build a boat with every story, and I'm crafting the hull, and I'm polishing the masts, and I'm outfitting the sails and the ropes and everything. And finally, that boat is ready to sail and I set it on the waters that connect all people and let it go. And I don't know where it's going to land. I don't know what adventures it might have on the way. But the boat is the story, and what it carries in the hull, inside, are those big ideas that we're talking about. The people on the ship are those characters that we know and are the ones who populate the story, and the place is the sea and all the mysteries that lie under the surface and all the rest. But the hull carries that treasure of big ideas, enduring questions like free choice and all the rest that you're talking about.
Jill Santopolo
Yeah. Oh, I love that. That's really beautiful.
T. A. Barron
Go figure that that image came to me at a writing desk that looks out at Rocky Mountain National Park.
Jill Santopolo
Well, it makes me think, though, of the story of Noah's Ark. Right? The boat that lands on the mountain.
T. A. Barron
It does! And Noah's Ark, as you know, is also one of my favorite environmental parables because, sure, it's about very difficult choices and it's about loyalty and it's about faith. But it is also about the idea that if God asked Noah to go through all of this trouble to build a ship, to carry all the different forms of life on Earth, how can we do anything less? So, I love that it makes you think about Noah's Ark, as well.
Well, Jill, I have one more big question for you. What is next? That is, apart from editing someone's memoir on the making of a Disney movie called Merlin. Aside from that, you're such a multifaceted person and you're such a busy gal. What are your next high priorities right now?
Jill Santopolo
So I think one priority is going to be my daughter, who is now almost two and a half, and I think trying to juggle being a mom and a writer and a publisher is my ongoing challenge. So she is always a priority. My new book, which I've just started to write, I've got about 7500 words.
T. A. Barron
Wonderful.
Jill Santopolo
Which is about sisters and family secrets. Let's put it there.
T. A. Barron
Can you tell us what wonderful place you'll take us to in that book?
Jill Santopolo
So I think we're going to go… we're going to be on Long Island in New York City and back in a different part of Italy for a little bit. Just a little jaunt. And then also working on the wonderful books by the wonderful authors at Penguin Young Readers. So I think those are my three priorities, and I will continuously juggle them.
T. A. Barron
Just remember to put a magical cat in that new book.
Jill Santopolo
I will see what I can do.
T. A. Barron
Well, thank you so, so much, Jill. It's marvelous to talk with you, as always. And I just want to say to all of my podcast listeners out there, give yourself the absolute delight of reading any books by Jill Santopolo. They will expand your mind, they will lift your spirits, and they will deeply touch your heart. Thank you, Jill.
Jill Santopolo
Thank you, Tom. This was wonderful.
T. A. Barron
To everyone out there, let me just say thank you so much for joining us for Magic & Mountains. We'll see you next week. And in the meantime, may you have magical days.
Carolyn Hunter
We hope you enjoyed this week's episode of Magic & Mountains: The T.A. Barron Podcast. Don't forget to subscribe, leave a five-star review, and share this podcast with your family and friends. For more information and to find all of T. A.'s books, visit tabarron.com. Have a magical week.