Inspire Young Heroes
I've compiled these resources – videos, articles, and more – with teachers and parents in mind. They can be used in the classroom or at home to inspire the young heroes in your life.
Classroom Materials
I invite all educators to order a
free packet of materials
for use in your classroom. These packets include posters, bookmarks, reader guides, and the T. A. Barron video collection. Also included in the packets are materials to help start conversations with students about the concept of heroes, including
The Hero's Trail
study guide.
I've also included some of the most relevant materials related to heroes available for download here, so you can get started using them in your classroom right away!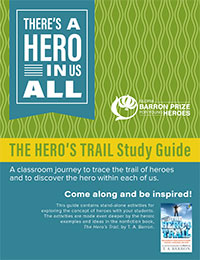 Both the Dream Big documentary and T. A. Barron video collection (which includes several other videos on heroes) are available for download and to stream in your classroom.
Watch or Download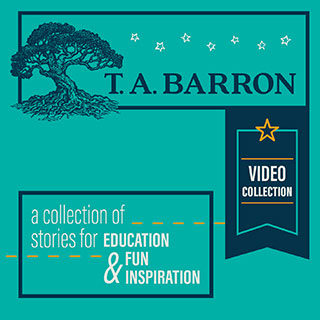 Watch on YouTube
Dream Big Trailer
Articles, Interviews, & Media Coverage
A Future So Bright
Sierra Club Magazine — October 26, 2016
View Online | View PDF
Barron Prize encourages youths who 'make the world better'
Christian Science Monitor — September 21, 2015
View Online | View PDF
What ELSE do you do?: Five questions for T. A. Barron
Horn Book – Read Roger Blog — April 9, 2015
View Online | View PDF
Youth Perspective: Sustainable Innovation for the World
Thomson Reuters Sustainability — April 2015
View Online | View PDF
The Power of Young People to Change the World
Dream of a Nation Anthology — May 2011
View PDF
4 Tips to Discover Your Child's Inner Hero
BabyCenter.com Blog, Jamie Lee — November 2010
View PDF (Condensed) | View PDF (Full Interview)
The Importance of Heroes
Penguin Youth Voices, T. A. Barron — April 2009
View PDF
Author Hopes to Inspire a Hero in Every Child
Hawken School News — March 2007
View PDF
Everyday Heroes: T.A. Barron's Trail Leads Youth to Find Their Own Strong Examples
Children & Libraries, Sharon Korbek — Spring 2004
View Online | View PDF
Videos
Check out this playlist of videos that I hope will help answer the question "What does it mean to be a hero?" The collection includes a video featuring Jane Goodall.
And here are two videos about heroes made by students at a school in Ohio.