Inspire Young Heroes
I've compiled these resources – videos, articles, and more – with teachers and parents in mind. They can be used in the classroom or at home to inspire the young heroes in your life.
Classroom Materials
I'm delighted to provide a set of our Young Heroes Materials for educators to help teach students what it means to be a hero. The free packet includes educational materials and the Dream Big documentary DVD.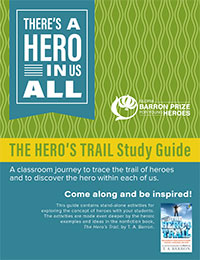 Educational Materials
Including:
Informational flyer about Dream Big
Young Heroes Activity & Discussion Guide
Heroes Bibliography
Results of a recent national survey about teens' heroes
Barron Prize Brochure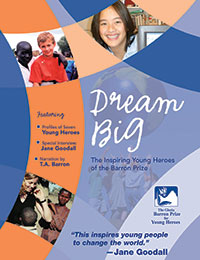 Dream Big: The Inspiring Young Heroes of the Barron Prize
This documentary DVD profiles a diverse group of passionate young people who are making the world a better place. Learn more by watching the Dream Big trailer below.
Featuring:
Profiles of seven heroic young people
A special interview with Jane Goodall
Narration by author T.A. Barron
Request Materials & DVD
Download Materials

Dream Big Trailer
Articles, Interviews, & Media Coverage
A Future So Bright
Sierra Club Magazine — October 26, 2016
View Online | View PDF
Barron Prize encourages youths who 'make the world better'
Christian Science Monitor — September 21, 2015
View Online | View PDF
What ELSE do you do?: Five questions for T. A. Barron
Horn Book – Read Roger Blog — April 9, 2015
View Online | View PDF
Youth Perspective: Sustainable Innovation for the World
Thomson Reuters Sustainability — April 2015
View Online | View PDF
The Power of Young People to Change the World
Dream of a Nation Anthology — May 2011
View PDF
4 Tips to Discover Your Child's Inner Hero
BabyCenter.com Blog, Jamie Lee — November 2010
View Online | View PDF (Condensed) | View PDF (Full Interview)
The Importance of Heroes
Penguin Youth Voices, T. A. Barron — April 2009
View PDF
Author Hopes to Inspire a Hero in Every Child
Hawken School News — March 2007
View PDF
Everyday Heroes: T.A. Barron's Trail Leads Youth to Find Their Own Strong Examples
Children & Libraries, Sharon Korbek — Spring 2004
View Online | View PDF
Videos
Check out this playlist of videos that I hope will help answer the question "What does it mean to be a hero?" The collection includes a video featuring Jane Goodall.
And here are two videos about heroes made by students at a school in Ohio.