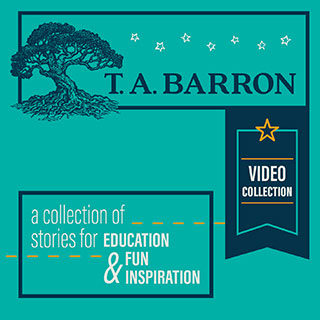 Meet T. A. Barron – an author whose work is inspired by his love of children, nature, imagination, and heroes.
This collection of videos has been created to use in your classroom to help motivate your students to be better writers, readers, creators, and heroes in their communities.
Delivered via USB flash drive, the collection is included in every packet of free materials for educators. You can also watch the collection right now on T. A. Barron's YouTube channel.
You'll find videos from T. A. Barron on topics such as the power of heroes, writing what you love, nature as inspiration, and insights into the books he has written as well as the characters he has created.
Videos are arranged by topic so you can easily use them individually or collectively to complement your lesson plans.
Topics include:
Books by T. A. Barron
The Power of Heroes
Writing What You Love
See Your Life as a Story
Wonders of Nature
Writing Room Tours
Also check out T. A. Barron's YouTube channel for more videos!